PRESS RELEASE
Blauer Tactical Systems Introduces the CQC Chest Guard
---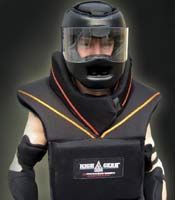 Blauer Tactical Systems Presents the CQC Chest Guard. This innovative gear is designed to train officers in aggressive weapon retention, defense against close quarter knife attacks and protecting against sucker punches inside the reactionary gap. It is a must for anyone serious about officer survival.
The CQC Coach's Chest Guard allows full-speed applications and realistic contact for ambush-type attacks police officers face. The Chest Guard is ergonomically designed so role-players move exactly like real attackers. Colored target lines identify lethal and non-lethal target zones to reinforce proper use-of-force choices. LEO's can now train realistically on a human target.
The CQC Coach's Chest Guard can be used alone or with the original High Gear™ helmet (sold separately), which fits snugly inside the chest guard for additional safety during dynamic isolation drills.
The CQC Coach's Chest Guard is available from Blauer Tactical Systems for $349. For a FREE video CD on the world's lightest and most flexible scenario equipment, email combatives@tonyblauer.com include your name, agency/unit and full mailing address. You may also call toll free at 1-877-773-2748 or visit their Website at www.tonyblauer.com.

Request more info from Blauer Tactical Systems
Thank You!