PRESS RELEASE
GORUCK looks to inspire with new Service First Campaign
---
JACKSONVILLE BEACH, Fla. – GORUCK a gear and events brand, is breaking a new campaign that features stories of individuals and organizations dedicated to service and making a difference in communities across the country. The Service First campaign looks to recognize and inspire service at the local and national levels.
"America needs her sons and daughters to hear the call to service, and to answer it. We're hoping these stories are inspiration so that other Americans everywhere might also hear the call of service and answer it," said Jason McCarthy, Founder and CEO GORUCK.
GORUCK will open the campaign with two video stories. The Stop the Bleeding Foundation teaches life saving techniques to first responders and civilians and its story focuses on one of the Foundation's founders, Dr. Spencer Guinn. The video features a training scenario where instructors teach first responders how to handle a simulated school bus crash with multiple casualties. The second story for the campaign looks at the challenges, training and commitment of the Jonesboro, Arkansas Police volunteer SWAT.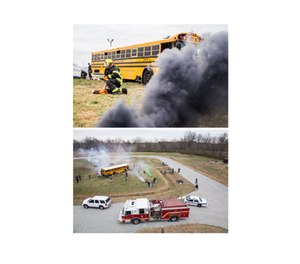 The videos, photos and supporting material will be distributed digitally across GORUCK digital and social assets.
"In a selfie-crazed world, GORUCK stands for something different. We believe life is meant to be shared, together. That "I" is better off as we, and that we should focus a little less on scrolling down and swiping right and a little more on the person standing next to us, or sitting across from us, and how we can leave the world we share, and our communities, better places for us all," added McCarthy.
As part of the campaign GORUCK has announced several initiatives including a discount program, Earned Service and a new service-themed event, Ingress: Operation Clear Field with partner Niantic.
EARNED SERVICE
As part of the campaign GORUCK launched a 25% off Earned Service Discount. Now military, veterans, police, firefighters, government employees, teacher and students will receive 25% off their entire order of full priced gear or events.
INGRESS: OPERATION CLEAR FIELD
Service-themed scavenger hunt with competitive ingress gameplay where all registration fees will be donated to the National Park Foundation, the official charitable partner of the National Park Service. Niantic, the makers of Pokémon GO and Ingress, have partnered with GORUCK to create Operation Clear Field, the next Ingress series – in 120 cities all across the United States this Summer.
ABOUT GORUCK
GORUCK is a US-based gear manufacturing organization which leads more than 900 endurance events per year for civilians and combat veterans of Special Operations. GORUCK's goals are to serve as a voice for good, employ more Veterans of Special Operations than any organization outside the US military, and build a bridge between the military and civilian worlds. For more information on GORUCK, visit www.goruck.com.
ABOUT NIANTIC
Niantic Inc. builds mobile real-world experiences that foster fun, exploration, discovery and social interaction. Originally incubated within Google, Niantic Inc., spun out in 2015, with investments from Google, The Pokémon Company and Nintendo. The company's immersive real-world mobile game Ingress has been downloaded more than 20 million times and is played in more than 200 countries and territories worldwide. Niantic Inc., also developed and published Pokémon GO, the real-world Pokémon game for iOS and Android mobile devices that was downloaded more than 500 million times in its first two months. For more information on Niantic, visit www.nianticlabs.com
ABOUT STOP THE BLEEDING FOUNDATION
We provide life-saving medical training and equipment to our Nation's Law Enforcement Officers, Firefighters, EMS and civilian first responders. We are a 501(c)(3) tax-exempt Public Charity. http://www.stopthebleedingfoundation.org/
ABOUT THE CITY OF JONESBORO POLICE DEPARTMENT
The City of Jonesboro Police Department strives to ensure all citizens are served in a professional, ethical and equitable manner that respects individuals, protects our democratic ideals and system of government, pursues greater accountability of police, greater public share in decision making and greater concern for civil rights and liberties.
The Special Weapons and Tactics Team (S.W.A.T). is trained to respond to a wide variety of critical incidents which include the following: hostage situations, barricade situations, high-risk apprehensions, high-risk warrant service, personal protection & special assignments. Currently, the all-volunteer team is comprised of 27 officers. In addition, the team has three medical doctors and five medics who are reserve police officers. http://www.jonesboropolice.com