PRESS RELEASE
The HIGH GEAR System™
---
Real movement, real behavior, real dialogue, real targets, real pain and therefore, real fear...
Only HIGH GEAR provides trainers, coaches and their students these real-time options and a chance to test, train and apply real tactics in a realistic environment ... every training evolution or scenario can take on a real-life feel by replicating real life dynamics.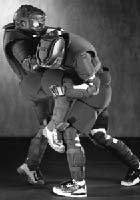 Remember, true confidence is the result of actually completing the tactical objective. And only through a scientific replication process can that be achieved. Whether that's handcuffing a suspect or arm barring an opponent, only HIGH GEAR allows the role-player to effectively replicate true behavior like resistance, pre-contact cues and verbal aggression.
Whether you're in law enforcement, the military or teach self-defense, progressive training, liability issues and just good sense dictates that scenario-based training is the way to go and using the HIGH GEAR suit is going to be the closest method to rehearsal and preparation for real world action.
Only HIGH GEAR allows the officer or soldier, martial artist or MMA athlete to tactically engage with realistic movement, including grappling, groundfighting, prisoner handling, cuffing, weapon retention and so on. No other suit allows for such a diverse experience, the result is that trainers and participants can hone skill under 'scenario' pressure, the skills they'll need in a real world engagement...
HIGH GEAR works! The gear is currently used by military units, SWAT teams, law enforcement agencies and martial art and MMA schools around the world. If you're looking to take your training to another level, HIGH GEAR is a must-have component.
http://www.police1.com/ad/redirect.cfm?man=TonyBlauer&goto_url=www.tonyblauer.com/highgear/index.html
IMPORTANT: Our gear, its design and its philosophy of function are quite different from other training suits.
Understanding the rationale behind HIGH GEAR will help you decide whether the gear is for you or not. So be sure to read the EVOLUTION/REVOLUTION page carefully and feel free to contact us with any questions.
For more information visit: www.tonyblauer.com or email Tony Blauer at tony@tonyblauer.com.

Request more info from Blauer Tactical Systems
Thank You!