9 tips for law enforcement professionals going back to college to pursue a graduate degree
Many adult students worry about their ability to assimilate back into the student mindset – here's how to overcome those concerns
---
This article is reprinted with permission from the University of San Diego
By Erik Fritsvold, Ph.D.
Going back to college as an adult can be both exciting and anxiety-provoking for professionals across nearly every industry, including law enforcement. After being out of school for a decade or more, many adult students worry about their ability to assimilate back into the student mindset and whether or not they can stay engaged and be successful. Aside from entering a vastly different academic landscape, many concerns voiced by law enforcement professionals about going back to college as an adult include:
Will I be able to balance work, school and my personal life?
While I like the idea of an online degree, will I be able to focus outside of a classroom environment? And am I comfortable with the online classroom technology?
Will my unpredictable schedule allow me to consistently dedicate time to my studies?
Is the cost of tuition and books something I can afford at this point in my life?
I haven't been a student in so long – will I remember how to do it?
Despite these concerns, recent years have seen a growing number of older adults seeking out graduate degrees to further their careers. According to the National Center for Education Statistics, college enrollment by students ages 35 years and older increased 23% between 2000 and 2014, and that number is expected to rise to 43% by 2025.
Advice from a 30-Year Law Enforcement Veteran Who Returned to School
Michael Defoe, Captain/Assistant Chief of Police of the Town & Country, MO, Police Department, completed his master's degree in Law Enforcement and Public Safety Leadership (MS-LEPSL) from the University of San Diego nearly 30 years after undergraduate studies.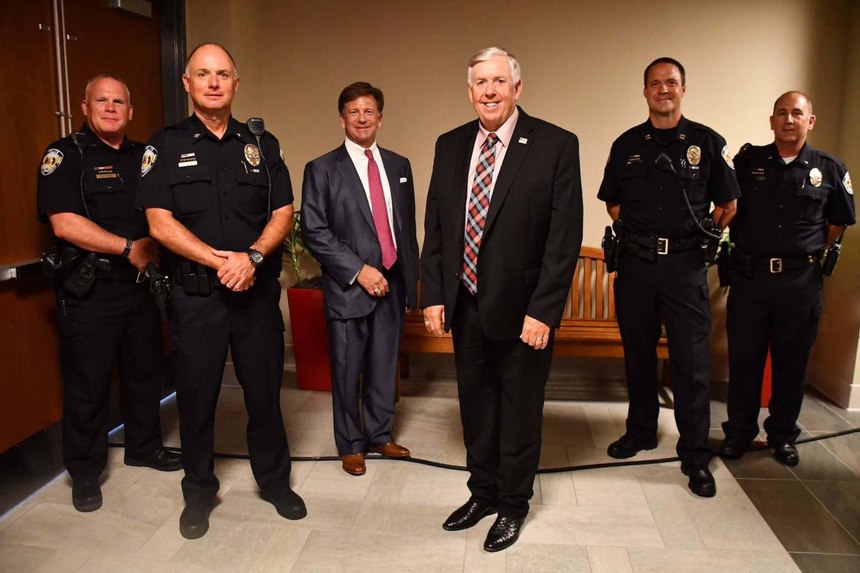 Upon earning his bachelor's degree in 1990 from Missouri State University, Capt. Defoe joined the Town & Country Police Department where he successfully moved up the ranks while raising his family. Like many law enforcement veterans, he felt apprehensive about the idea of returning to school for his master's degree while trying to maintain the same dedication to both his professional and personal lives. Now, as a graduate,  he has some recommendations for those who are considering taking the same path he did.
Tips for Streamlining the Application Process
1. Do your research to find programs that fit your career goals and learning style, and that build on your professional training. Capt. Defoe had earned a number of transferable credits from his time at the FBI National Academy, so finding a program that accepted those credits was very important. "I talked to several different universities, but I found that there were only three that accepted the transfer credit hours and USD was one of them. After I started learning about those three universities, I found that USD's program was the best fit for me."
2. Figure out your financing options before you begin applying. You'll definitely want to have a comprehensive understanding of your prospective programs' tuition, available professional discounts, and financial aid options. Keep in mind that most universities that are not regionally accredited are unable to offer Federal Financial Aid, so if you plan to use financial aid be sure to check the accreditation status of the schools you are considering. Additionally, if your agency offers tuition assistance, find out how the program works so you can maximize your benefit.
3. Let your immediate supervisor know that you'll need a letter of recommendation. Most reputable master's degree programs will require a letter of recommendation. The ideal candidate to provide this letter would be an immediate supervisor and someone in your chain of command who can speak to your professional experiences, character, and potential for success in a graduate program.
Tips for Preparing for the Program
4. Make sure you have a reliable computer and internet connection, and brush up on the technology skills that you will need. Obviously, an online master's degree program requires students to have reliable internet access and a certain comfort level learning new computer programs. As many students who are just coming back to college discover, being a graduate student is much different now than it was a few decades ago. Gone are the days of researching in the library – many online master's programs utilize online portals to replace in-class discussions and share relevant reading materials via this same online platform.
5. Complete all onboarding requirements. This will vary from program to program, but most universities require incoming students to meet their academic advisor or program coordinator, participate in an online orientation and/or perform a preliminary assignment to get accustomed to the online learning platform. Be sure you set aside time to focus on these activities prior to the start of your first class.
Tips for Success After Classes Begin
6. Talk to other students. Talking to the other law enforcement professionals enrolled in your graduate program can prove valuable in a number of ways. Not only is it a way to grow a professional network, but these connections can be a great resource throughout the program. "I found it very rewarding to work with and communicate with other students. We would share ideas through discussion boards, and sometimes we would even communicate through email with other students about things in and outside of class," said Capt. Defoe. If you've enrolled in a program that exclusively serves law enforcement, you'll have the added benefit of idea-sharing and problem-solving with other agencies from around the country.
7. Leverage opportunities to connect with faculty. Even in an online graduate program, faculty will offer "office hours," or otherwise make time available for students to check in and ask questions.  Reflecting on his time in the MS-LEPSL program, Capt. Defoe said that "instructors were on the discussion board, they were actively engaged with the students and they provided great insight about discussion topics. Several instructors would offer Zoom office hours where you could meet with them and hear from the other students and learn from their questions."
8. Actively participate in class discussions. In online programs in particular, participating in the course discussion board is a large component of each individual course. Not only does it provide an opportunity for students of varying opinions and backgrounds to share their perspectives, it also helps students demonstrate to instructors that they are reading course materials and can use it in practical applications. "Check the discussion board once or twice a day to see if anyone's replied to your post and make sure you read and respond to others," said Capt. Defoe. "If you don't feel like you have anything to add that's going to continue the discussion in a meaningful way, wait until you find that you have more information to put out there that will add to the overall discussion."
9. Stick to a set schedule. One of the biggest benefits of an online program is the ability to set your own schedule and complete work when it fits around your other responsibilities. Setting a schedule will make completing each course a bit easier and more manageable, and help reduce the chances of other things creeping into your study time. Speaking from experience, Capt. Defoe found that the key for him was to stick to a set routine when it came time to complete assignments and participate in weekly discussion board topics. "I have the luxury of working day shift Monday through Friday, so I would always try to do my initial post on the discussion board the day of or the day after the board opened. I found that after you get through one course, you kind of get the feel for how each week works and can set a schedule that works."
Reasons to Consider Going Back to College After You've Already Started Your Career
Law enforcement professionals choose to go back to college for a number of reasons. While motivations differ, some of the most common reasons include:
To complete an undergraduate degree you didn't finish
To earn a graduate degree
To prepare for a promotion
To improve key competencies in areas such as leadership, technology and other job-related skills
To enhance your resume in preparation for a second career after law enforcement
Things to Look for in a Law Enforcement Master's Degree
Today's law enforcement professionals are already tasked with balancing a stressful career with family obligations, which means that any degree program needs to fit into their already busy life. The key is to find an online degree designed for working adults – a program that allows students to balance their schedule while earning a degree in a realistic timeframe without having to uproot their lives or ignore their family obligations.
"With my schedule, it would be difficult to go to in-person classes, so I knew that I needed something that was going to be online," said Capt. Defoe. "Today, I'm advanced within my agency and I am responsible for a lot of administrative work, so I found that it's much easier for me to focus and put the needed effort in to produce a good product for the course in an online setting."
Many criminal justice degree programs, like the M.S. in Law Enforcement & Public Safety Leadership program at University of San Diego, are designed specifically for students currently working in law enforcement.  These programs are built around defining elements such as:
Affordable tuition, scholarship and grant opportunities and discount programs for law enforcement.
Transfer credit opportunity for professional training programs such as FBI National Academy, FBI-LEEDA's Trilogy program, and California POST's Command College.
Online learning support from real people committed to ensuring your success throughout the program
Flexibility to accommodate situations that are likely to affect your schedule, such as longer shifts to cover a natural disaster, civil unrest or an officer involved shooting.
A faculty of experienced law enforcement professionals who serve as professional coaches and mentors as you prepare for promotional opportunities.
Capt. Defoe recommends that anyone considering going back to college do so, no matter what stage they are at in their careers. "Don't wait as long as I did, because then you're going to be at the point where I am where you wish you already had it. For those who are in their 30s and 40s, this is the time — this is the time to go out and do it."
---
About the author
Erik Fritsvold, Ph.D., serves as the Academic Director for the Master of Science in Law Enforcement and Public Safety Leadership. He was the founding faculty member for the program and part of the team that shepherded it from concept through launch – a process that included three years of research and collaboration with law enforcement. Prof. Fritsvold personally directs all aspects of program academics, including curriculum, faculty, admissions, accreditation, and any issues related to students.
Prof. Fritsvold's primary expertise is applying core tenets of academic criminology and criminal justice to dynamic, modern-day law enforcement. The cutting-edge nature of the Law Enforcement and Public Safety Leadership program requires Prof. Fritsvold to be meaningfully engaged with an array of academic and practitioner-centric specialties including leadership, organizational theory, Constitutional Law, communications, data-driven and intelligence-led policing, law enforcement and criminal justice policy, conflict resolution, and law enforcement best practices.
Prof. Fritsvold has been a full-time faculty member at USD in various capacities since 2005. He formerly served as an Associate Professor of Sociology in the Crime, Justice, Law & Society Concentration, teaching an array of undergraduate courses in sociology, criminology, and criminal justice. He has also served as both a Department Chair and Interim Associate Dean in the College of Arts & Sciences. In 2013, Prof. Fritsvold was recognized by Princeton Review as one of America's "Best 300 Professors" in a book by the same name.
Erik earned his B.A. in Sociology from the University of San Diego in 2000, and his M.A. and Ph.D. from the Criminology, Law & Society Department at the University of California at Irvine in 2003 and 2006 respectively.

Request product info from top Police Online Training companies
Thank You!