What to demand from your duty-weapon provider
A top-quality firearm is just the beginning – discount programs, free training, replacement parts and a loaner pistol set this manufacturer apart
---
Sponsored by Staccato
By Pete Goode for Police1 BrandFocus
In today's law enforcement world, we are carrying more kit and demanding more out of it. From our uniform to our flashlight to our duty pistol, high-quality products combined with dependable customer service is what law enforcement agencies deserve.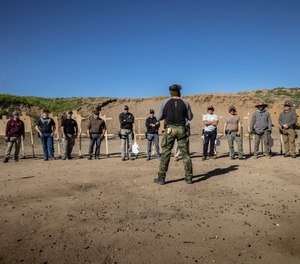 Enter Staccato. You may remember that prior to 2020, Staccato was called STI and the firearms they created were competition or race guns. When I got into law enforcement, several lads I worked with had the STI Tactical .45. and it ran smooth as glass and hit like a hammer. It was, and still is, a pistol that you want to take to the range and shoot over and over again. The advantage of running such a quality pistol is that even with the ammo shortage, you are able to remain proficient with a low round count on the range (if you have that kind of self-control).   
Moving up to the present, Staccato still produces high-performing, 100% American-made guns – only now their focus is on manufacturing guns for all types of gun owners, especially law enforcement.
Nearly 700 law enforcement departments approve Staccato 2011 pistols for duty carry. This does not happen without a company producing a robust and reliable firearm able to withstand the harsh and constantly changing day-to-day world of policing.  
Building a better firearm
Staccato makes and fits all the components that make up their pistols. Slides are hand-fitted to lowers, ensuring tight tolerances and smooth operation. That attention to detail is the reason the pistols run like high-end race cars. Pair that with a 1911-style crisp trigger that match shooters still rely on to win championships – even after 100 years – and the 30% less recoil due to Staccato's proprietary FlaTec technology, and you have a phenomenal duty pistol.
Being able to manipulate the trigger without disturbing the sights is a skill that all shooters must master to be successful, and Staccato's triggers make this easier. New shooters are often surprised when that first round goes off on the range because they don't feel a lot of take-ups in the trigger. That feeling is addictive. Try to shoot it without enjoying it and needing more.
Cops are generally hard on kit, but to be fair, it's mainly because the work environment can be hard on us. We will use a tool to its max, and that's why it is important to have a company that will look after you after the money clears the bank.
Special support for law enforcement
Staccato shows their support for law enforcement in many ways, one of which is by offering two discount programs. The first is geared towards military professionals, veterans, first responders (EMS/firefighter), or retired/non-active duty law enforcement. This program allows for 10% off Staccato pistols when purchased online on Staccato2011.com.
The second program offers a 15% discount for active law enforcement on all magazines and Staccato pistols when purchased on Staccato2011.com. Upon purchase of the Staccato P, C2, or P,  three additional magazines are included at no extra charge. Three extra magazines are worth nearly $300.00.
Staccato continues their support of law enforcement customers by providing free training to officers, making sure that they are completely comfortable with the pistol. Courses offered include 2011 Transition courses, a Level 1 Operator course, and an Armorers course, as well as on-site training specific to each agency. Because the 2011 pistols have a manual safety, there is a transition period that often must be worked through, especially if an officer has previously run a striker-fired pistol without an external/manual safety.
This next feature is not something that I have heard offered by any other company: a loaner pistol. If an officer finds themselves in an officer-involved shooting and their pistol is collected for evidence, Staccato will send that officer a loaner pistol. Having your primary pistol taken away is never a good feeling. Staccato sending a loaner pistol will lessen that sting at least a little.  
Staccato clearly has the operator covered, but what about the pistol? They have that sorted as well. Staccato will perform an annual inspection on pistols and replace any springs that may be warn or damaged, as needed. All of this comes with the purchase of pistol and does not have to added on at the end as an additional charge.
These are standard services that Staccato offers to law enforcement. In reality, piecing these services together would likely cost an officer hundreds, if not thousands, of dollars. 
Having a relationship with a company is of the utmost importance. No agency, no officer, wants to be just a number. Staccato doesn't just sell you a pistol and wave you down the road. They offer continued services and support because they are a company that is veteran-led. The motto says it all, "Built for Heroes."
Visit Staccato for more information.
Read next: Why a manufacturer known for competitive shooting made a commitment to serve law enforcement
About the author
Pete Goode is a former Royal Marines Commando sniper and helicopter sniper team leader. After becoming an American citizen, he entered into law enforcement and became a firearms instructor, CQB instructor, Civilian Response to Active Shooter Events (CRASE) instructor, SWAT sniper and SWAT Sniper Team Leader. His law enforcement experience includes working patrol, Crimes Against Persons and Internet Crimes Against Children (ICAC). With over 15 years of instructor experience, Pete is passionate about continuing to learn and develop skills and tactics and passing them on to his fellow operators and officers. 

Request information from Staccato
Thank You!