Why a manufacturer known for competitive shooting made a commitment to serve law enforcement
LEO leadership and a close collaboration with police led to one of the most accurate duty guns on the market
---
Sponsored by Staccato
By Lexi Wessling for Police1 BrandFocus
These days, when a company rebrands, it's usually a reactive measure. Corporate scandal demolishes reputation. Bad PR strangles sales. The business must evolve, out of shame, to salvage what it can.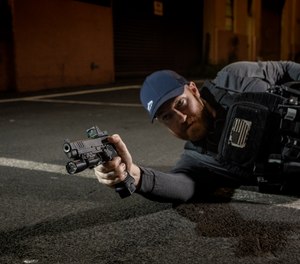 Proactive change, however, is rare for a company. Evolving in business, as nature defines it – for the better, as a product of innovation, out of pride – just isn't common anymore.
But Staccato isn't a common firearms manufacturer. The change the company made in 2020 – from STI Firearms, focused on competitive shooting, to Staccato, now a military and law enforcement firearms industry leader – showed how a commitment to LEOs paid off.
THE START
When STI (now Staccato) was founded in 1980, it quickly made a name for itself as a custom gun shop for professional competition shooters. As it grew, it began to specialize in customizing 1911s for competition. During this time, their gunsmiths noticed that they could make better use of the 1911's size and weight. By 1993, they started developing a new model, with a more modular frame and a polymer grip, for more ammo in less space.
This would ultimately become the 2011, which revolutionized competitive shooting with less recoil, more sophisticated ergonomics and an overall better design.
But until about four years ago, competitive shooting was still their primary focus. The 2011 as it existed at the time, with capricious double-stack magazines, just wasn't a viable option for LEOs, especially given many officers' preference for 1911s.
Enter Buck Pierson, Staccato's vice president of law enforcement and military business development, in 2018.
"When I first started, STI had no skin in the game when it came to the law enforcement realm," Pierson said in a 2019 episode of the podcast Primary & Secondary.
"At the time, there was no serious consideration of the law enforcement market," he told RECOIL Magazine. "I found that odd because when I first experienced the STI 2011, my first thought was I wish I had a pistol that shot this damn good throughout my military career."
THE SHIFT
Pierson's arrival heralded the beginning of a new era for the company. A retired infantry Marine, Pierson explains that Staccato's prioritization of law enforcement comes from personal understanding of LEO and military firearm needs, company-wide.
"A lot of changes were made to our production/gunsmithing processes, but it all started with the assembly of an amazing team of people, including many military veterans who led a cultural change inside the organization," Pierson told RECOIL.
One of the first things Pierson did in his new position was to ask how many police departments were carrying Staccato guns. When the marketing director at the time told him there were none, that conversation started turning the gears in Pierson's mind.
Not long after, both the U.S. Marshals Special Operations Group and Long Beach Police Department SWAT contacted Pierson within a few days. He volunteered to meet with each agency on the range to gauge their needs. Without a law enforcement-dedicated model in the lineup at the time, Pierson brought two models – the tactical double stack 5.0 and the tactical double stack 4.0 – to get feedback on each.
At this point, Long Beach SWAT had been testing a number of other makes and models for nine months.
"I showed up and pretty much within one range day, all of them except one [sniper] wanted our [4.0] gun," Pierson said in the Primary & Secondary podcast. "It was an almost overwhelming response of, 'This thing shoots better than anything we've been testing for the last nine months. Let's continue forward with this.'"
Pierson traveled to Louisiana a few days later to meet with the marshals.
As experts who shoot 100,000 rounds in training each year, the marshals know what they want, says Pierson. At the end of that range day, they also decided to go with Staccato for their duty weapons.
The features requested by Long Beach SWAT and the Marshals SOG – such as DLC finish, iron sights, oversize slide stop and slim magwell – made it to the final version, the current Staccato P.
The gun was an immediate hit, selling well even in the civilian market. "In fact, the majority of our sales aren't department purchases," said Pierson. "They are individual officers buying the guns." Following this success, STI officially became Staccato in May 2020.
STACCATO NOW
In February 2021, Staccato announced a company milestone: More than 280 law enforcement agencies across the U.S. had approved Staccato for departmental use. Today, that number is nearly 700, including the Texas Rangers, Los Angeles Police Department, Las Vegas Metro Police Department and LA County Sheriffs.
"Our gun has not failed a single department evaluation," said Pierson. "That includes drop testing, accuracy testing, reliability testing, endurance testing… the whole gamut."
It's this level of reliability and accuracy that Staccato has quickly become famous for.
Despite Staccato's success, Pierson says the company is always looking to improve and continues to test new elements and features for law enforcement. The goal, however, remains the same: to keep making better, more reliable, more accurate firearms that keep LEOs safe on and off the job.
Visit Staccato for more information.
Read next: How an Alaska police department increased shooting accuracy by changing its duty weapons
About the author
Lexi Wessling is a former editorial assistant at Police1. She has a degree in criminal justice and is currently pursuing master's degrees in criminal justice and cybersecurity.

Request information from Staccato
Thank You!