PRESS RELEASE
T4E offers authentic firearms training and competition equipment
---
FORT SMITH, Ark. - T4E specializes in providing high-quality training and competition equipment in the USA. The company prides itself on promoting family values and offering products that enable clients to experience real-world scenarios. To enhance its clients' understanding of paintball training and recreational equipment, T4E has developed a user-friendly online platform filled with numerous videos and content.
One of T4E's strengths is its ability to offer force-on-force training products and performance that enable departments and agencies to train more and spend less. JD in Danville, PA, attests to the efficacy of T4E equipment in training officers and members of their tactical team. He praises the realistic look and feel of T4E equipment and the ability to engage in force-on-force training.
"We use T4E equipment to train our officers and members of our tactical team. The realistic look and feel of T4E help to enhance the training and the ability to engage in force-on-force training is invaluable. The ability to use equipment that works just with our holsters and other weapon accessories is a great advantage."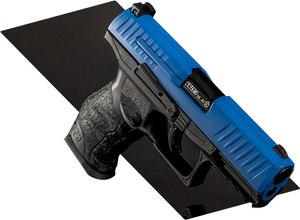 T4E offers a range of pistols in the USA that are less-than-lethal training platforms powered by CO2 and chambered for various .43 caliber simulation rounds, including rubber balls, powder rounds, and paintballs. These pistols are designed to provide clients with an authentic feel, weight, and action, which allows them to experience the most realistic close-quarter battle situations.
The training pistols are an excellent option for police officers, security agencies, the military, SWAT, sheriff departments, and many more. Clients can train at a higher level with T4E's training pistols at a fraction of the cost of most simulation devices on the market.
On the recreational side, T4E offers the GLOCK G17 Gen 5 paintball marker, among others, sets new standards for players and markers. The item is made in Germany from several top-grade materials and has numerous outstanding features, including realistic blowback slide action, a polymer frame with an optional lanyard attachment, automatic trigger safety, and many more. The GLOCK G17 Gen 5 paintball marker is ideal for competitions and training scenarios at home.
William S. of Chattanooga, TN highly recommends T4E's products. "I've been a firearms instructor for nearly a decade. T4E allows new shooters to learn handling and manipulation in a controlled and safe environment with near complete mitigation of risk. T4E also provides an economical alternative to force-on-force training or engaging targets in shoothouses where students aren't quite ready for live ammunition when working in teams. T4E is an excellent addition to the kit bag. "
Clients interested in finding a GLOCK paintball pistol online can contact T4E for more information.
 
About T4E
T4E offers training markers for responsible gun owners and operators that incorporate authentic weight, feel, and action to provide the most realistic training experience with the least cost possible. T4E is a brand of Umarex USA, Incorporated, one of North America's fastest-growing family-owned outdoor sport and recreation companies. Umarex USA innovates, develops, and markets products under brands owned or licensed by its parent company, UMAREX GmbH & Co. KG. Such brands include Axeon®, Beretta®, Browning®, Colt®, Elite Force®, GLOCK®,
Heckler & Koch®, Rekt®, Ruger®, RWS®, Smith & Wesson®, UMAREX®, Walther® and others. Agencies and facilities interested in partnering with T4E are encouraged to contact the brand by emailing training@t4eguns.com.

Request more info from T4E : Training 4 Engagement
Thank You!