How new bullet backstops protect shooters and reduces range maintenance
For more than 90 years, Meggitt Training Systems has been innovating indoor range technology including its renowned GranTrap.
---
The following is paid sponsored content by Meggitt Training Systems
By Andrew Butts for Police1 BrandFocus
We've all been there; conducting shooter drills or qualifications on an indoor range. Suddenly someone calls out, "Ceasefire!"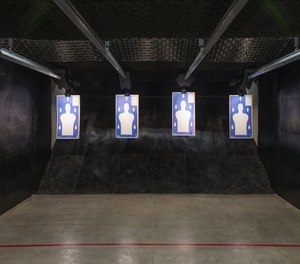 The line goes cold, and you discover a student or member of your training staff has been injured. He caught a piece of bullet jacket that ricocheted off the range's backstop and he needs medical attention.
Luckily, the industry continues to innovate to solve these issues—going from a bullet backstop made of thick steel plates set at an angle to more modern system like the GranTrap from Meggitt Training Systems.
First Generation Bullet Trap Technology: Problems
Historically, indoor ranges have consisted of a bullet backstop made of thick steel plates set at an angle.
As a bullet impacts, it ricochets upward off these steel plates and then falls into a containment system set behind the backstop. This containment system must be cleaned out by either a large and expensive conveyor belt system or by an employee with a shovel and squeegee.
Since the backstop is made of hard steel plates designed to deflect bullets upward, it is inevitable that not all these bullets or jacketed materials will be directed into the containment trap.
Bullets and/or jacketed materials striking at an unusual angle can fly back out at unpredictable angles. This is especially worrisome when high velocity rifle projectiles strike the backstop.
Modern Bullet Trap Technology: The GranTrap
Fortunately, innovation and creativity have largely overcome the legacy issues associated with indoor ranges with the introduction of the GranTrap from Meggitt Training Systems.
As the name implies, the GranTrap uses small chunks of granulated rubber as a bullet trap material.
This rubber slows the bullet as it enters the backstop and traps it mostly intact, and at any angle. This means the chances of catching an errant jacket or fragment are greatly reduced.
Meggitt's GranTrap keeps its rubber in place by utilizing a series of patented steps set into the backstop. Rubber rests predominantly on these steps and won't shift and settle as with other methods.
Also, there's no need to build a catch system behind the backstop, saving range space and simplifying cleanup, because bullets are trapped and contained on the surface of the backstop rather than behind it.
Maintenance now consists of periodically sifting or vacuuming the heavy lead from the lighter rubber pieces.
Once the lead and bullet fragments are sorted, the granulated rubber can be reused.
Also, since the bullet doesn't disintegrate or shatter against a hard steel backstop, airborne lead contamination is greatly reduced, further easing cleanup and prolonging the life of expensive air filters. Ventilation filters stay cleaner longer, and shooters aren't forced to breathe air full of range pollutants.
Another side benefit is that, without a bullet striking against a hardened steel plate, the noise inside the range is greatly reduced.
Meggitt Training Systems' Safe-N-Clear, LE5000 Option
Meggitt not only uses this granulated rubber as a backstop material in their GranTrap but also in a clearing barrel system called the Safe-N-Clear.
The Safe-N-Clear is stand-alone bullet trap that doesn't need any sort of additional mounts and can be placed in a hallway outside a sallyport or armory or any other area where a firearm needs to be cleared prior to entry.
For shooters using tracer or incendiary ammo, Meggitt offers the LE5000 backstop. The LE5000 is a more traditional backstop using AR500 steel plates but it added modern technologies, like reversible backstop panels and improved air filtration systems.  
Meggitt Training Systems' GranTrap and LE5000 systems can be installed in new or existing construction. All that's needed is a suitable building and a location. Backstop and associated range parts will fit through a 36-inch door, further simplifying construction requirements.
The GranTrap decreases the shooter's risk of being struck by a projectile at an indoor range, reduces noise compared to traditional systems, saves range space and makes clean-up a snap. It's just one more innovation in indoor range technology that is improving the shooter and the range manager's experience.
For more information about indoor range technologies, contact Meggitt Training Systems.

Request information from Meggitt Training Systems
Thank You!