Spotlight: Meggitt Training Systems - The future of small arms training has arrived
Leading supplier of integrated live fire and simulation weapons training systems
---
Company Name: Meggitt
Headquarters: Suwanee, Ga
Signature Product: FATS® 100P portable system
Website:  https://meggitttrainingsystems.com/
1. Where did your company name originate from?
Meggitt Training Systems of Suwanee, Georgia, is part of Meggitt PLC, a UK-based aerospace, defense, energy and equipment company whose roots can be traced back to 1850. The acquisition and combination of live-fire specialist Caswell International and simulator manufacturer Firearms Training Systems formed the genesis of what is now Meggitt Training Systems, the world leader in integrated live-fire and virtual training solutions.
2. What was the inspiration behind starting your company?
Firearms Training Systems, Inc. (FATS) was founded by Formula One world champion Jody Scheckter, who saw a magazine ad in Monaco for a British company that sold a simulated gun for firing at a projected film. He recognized the value of interactivity, but the company's execution was rudimentary. He and a friend thought law enforcement could represent a potential market. A visit to the FBI inspired Scheckter and his colleague to start FATS, combining video-based scenarios and accurate laser detection technology to enable real-time decision-making under a variety of stressful situations.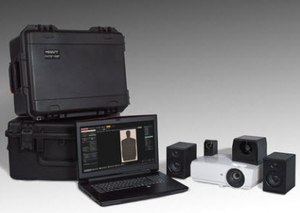 3. What is your signature product and how does it work?
The FATS 100P portable system is designed for law enforcement and defense organizations that require virtual weapons training on the go. The FATS 100P features advanced functionality for both instructor and trainee, delivering weapon handling and shot placement analytics, marksmanship automatic coaching tools, video-based judgmental training for escalation and de-escalation, and enhanced graphic capabilities, all in a compact package. Portable and light, the FATS 100P comes in two rugged hand-carry cases the size of a large range bag that allow easy transportation, set-up and operation by one person. Up to six weapon simulators, including wireless BlueFire ones, can be run simultaneously. BlueFire wireless weapon simulators provide the highest level of realism in simulation by maintaining form, fit and function of the original weapon. They use commercial wireless technology to communicate with the FATS virtual training system, giving the same control as tethered weapons but with full range of motion.
4. Why do you believe your products are essential to your vertical (Police, Fire, EMS, Corrections, Government) community?
Law enforcement officers face an ever-evolving landscape, one where split-second decision-making can mean the difference between life and death for police and the citizens they protect. Meggitt Training Systems' full portfolio of live-fire and virtual products enable the full range of marksmanship and judgmental training essential to build and maintain these necessary skills efficiently and cost effectively.
5. What has been the biggest challenge your company has faced?
The role and performance of law enforcement continues to be the subject of local and national debate. At the same time, many municipalities face budgetary challenges that require cost savings and economies of scale wherever possible. Meggitt Training Systems offers an efficient and seamless path from virtual to live-fire training. This portfolio not only delivers maximum value, but also enables police officers to train in real-time in the most realistic environment possible to safeguard life to the maximum extent.
6. What makes your company unique?
As the system-of-record provider to the U.S. Army, U.S. Marine Corps and numerous allied armed forces, Meggitt Training Systems' simulators and other products are developed to the highest performance standards. Law enforcement departments benefit from this state-of-the-art technology and military-grade quality delivered in a variety of form factors, from the FATS 300 five-screen immersive training system to the portable FATS 100P.
7. What do your customers like best about you and your products?
Meggitt Training Systems is recognized by military and law enforcement customers globally for multiple market-leading differentiators. First, our realistic weapons, including wireless BlueFire ones, replicate real-world form, fit and function to the maximum extent possible. Second, our marksmanship capabilities enable trainers to analyze student performance in real time and provide specific guidance. Third, our extensive judgmental branching capabilities provide the full range of scenario outcomes to keep officers engaged and challenged. Finally, our excellent customer service provides coverage from installation and training to upgrades and maintenance.
8. What is the most rewarding part of serving the first responder/local government community?
A large percentage of the Meggitt Training Systems team has served in the military, law enforcement and/or security organizations. As such, they understand the hardships and challenges our customers face daily. Their commitment to offering the best solutions to protect customer lives and those for whom they serve is personal and enduring.
9. Do you support any charitable organizations within public safety/community? Tell us more.
Yes, Meggitt Training Systems is proud to support organizations like the National Law Enforcement Museum and Marine Corps University Foundation. Also, we take an active role in the National Sheriffs' Association, International Association of Chiefs of Police and other professional associations whose members form our global customer base.
10. Is there any fun fact or trivia that you'd like to share with our users about you or your company?
While the FATS name is synonymous with small-arms simulators, most of Meggitt Training Systems' military and law enforcement customers have no idea FATS was founded by Formula One world champion, Jody Scheckter. Also, our first and longest-standing customer, the United States Postal Service, has been with us since delivery of the first FATS system in 1985. We're proud of this legacy, from our unique founding to decades-long customer relationships.
11. What's next for your company? Any upcoming new projects or initiatives?
Product research and development remains a top priority at Meggitt Training Systems. Law enforcement customers can expect to see more cost-effective solutions for training weapons, as well as a loaner program for our virtual equipment and systems. We'll also continue to generate lots of new content to provide maximum flexibility in training scenarios. Our goal is to offer a product portfolio that meets the needs of every police department through the full range of virtual, live-fire and combined training offerings.