Why every police department should invite community members to participate in training simulations
"This first-hand experience is intended to give the participants information so they can formulate an opinion of law enforcement action based on their own opinion and not the perception or beliefs of others."
---
By Carol Brzozowski
"Don't depend on the enemy not coming; depend rather on being ready for him" is a Sun Tzu quote in the email signature of Sgt. Robert Cherry, a Coral Springs Police Department (CSPD) training sergeant and SWAT Sniper Team Leader in Florida.  
The quote articulates why I participated in CSPD's training simulation for members of the Community Ambassador Program (CAP). I've previously taken CSPD's situational awareness and self-defense training. I now wanted to get a first-hand feel for situations law enforcement officers face.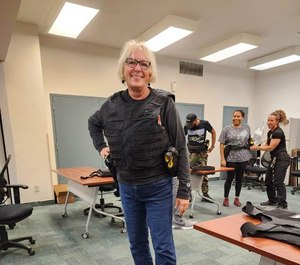 Training simulations
CAP members recently gathered at the CSPD training center where Officer Ashley Amalfitano equipped us with standard road patrol ballistic vests, an exterior carrier equipped with a gun belt, holster, a Sig Sauer P320 pistol modified to fire Simunition cartridges and a TASER 7 for less lethal capabilities.
I am an experienced journalist who has won national awards for writing about first responders, such as the 9/11 response. While it's not necessary that I extensively know the subject I cover, it is my job to get information from the most reliable sources and include all sides of the story to the fullest extent possible.
I joined CAP because it is indeed beneficial to broaden my knowledge base about important law enforcement topics and ask deeper questions that help better inform my readers. 
Scenario 1: Mental health response
Sgt. Cherry oversaw a mental health scenario involving a highly-agitated woman. I have written about mental health and the increasing number of calls to which law enforcement officers are dispatched.   
I'm familiar with the U.S. Department of Justice Programs Police-Mental Health toolkit.
I've written about the Rapid Integrated Group Healthcare Team (RIGHT) Care, a multidisciplinary model bringing together teams of mental health professionals, paramedics and specialized law enforcement officers who can better direct people in distress to community-based services and work to decriminalize mental illness.
While such programs have shown success in decreasing the numbers of hospital and jail admissions, arrests must still be made in situations leaving no other option.
In the mental health situation training scenario, I lost control of the situation by trying to talk the subject down while her intent was to use the large knife she was wielding to harm me. I didn't even think to shield myself behind the wall, as Sgt. Cherry pointed out.
Scenario 2: Traffic stop
Officer Frank Marinez oversaw a traffic stop scenario in which I approached the vehicle from the passenger's side while the driver exited his side of the vehicle, brandishing a gun that ultimately would be used against me.
I learned the importance of looking at a person's hands.
Scenario 3: Mistaken identity
In the third scenario supervised by Officer Amalfitano, someone had called in to report a man breaking into a house – which turned out to be his house.  
Helping community members to form their own opinions
Coral Springs Chief of Police Bradley McKeone – who was at the training and hosts monthly CAP meetings – notes Coral Springs has been conducting scenario training for more than a decade for elected officials, the media, community stakeholders and citizens.
"It is invaluable for both the police department and those who participate in the scenarios," he said. "This first-hand experience is intended to give the participants information so they can formulate an opinion of law enforcement action based on their own opinion and not the perception or beliefs of others."
"To be a law enforcement officer, you have to have a mindset geared towards safety – yours and others," Coral Springs City Commissioner Joy Carter told me when I asked her about the training she took in 2014 when running for office.
"There are required quick decisions that have to be made without warning. Clearly, I am not that person," she notes. "When I pulled a man over and was good at getting him to comply, his daughter stepped out of the truck with a shotgun. I can't shoot a kid! Well, the kid shot me."
She says she's grateful CSPD takes training seriously.
"As a commission, we understand their need for reliable equipment so that after their duties, they too can go home to their families," she adds.
"What hit home for me is that this is a job that isn't pretty," notes Coral Springs City Commissioner Joshua Simmons of training scenario participation. "It is tough and can be nerve-wracking, but it is a profession where continuous training – which CSPD does – is necessary to be the best officer you can be.
"As far as budgeting requests, we mostly get requests for items that make it safe for officers to perform their duties as well as making sure our department is outfitted with the latest technologies to keep our department efficient and high performing."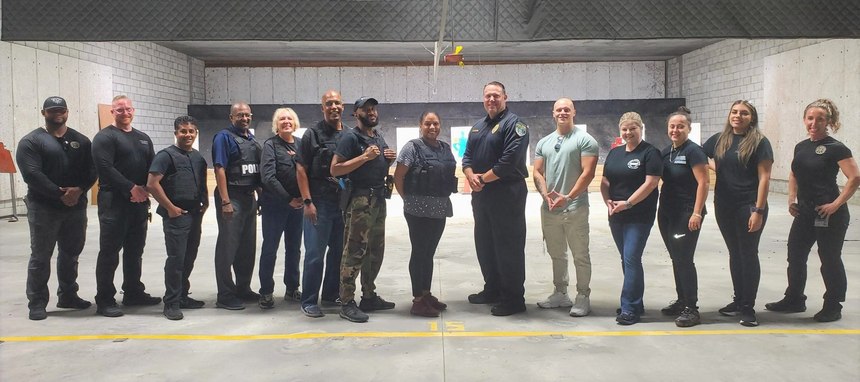 Bringing clarity to a department's needs
Coral Springs City Commissioner Nancy Metayer Bowen notes that having the opportunity to participate in the simulation training as well as being a member of the commission brought clarity to the police department's needs and recommends other elected officials participate in similar activities.
McKeone notes one consistent key training outcome is participant comments regarding "how fast things happen and the little time you have to make a decision."
Law enforcement officers – like all humans – make mistakes, he notes.
"It is not intended to justify every situation, but rather to remind you to pause and gather all the facts and consider how you felt during the scenarios before you pass judgment on a 10-second video clip," McKeone says.
McKeone advises other agencies considering similar scenario training to seek out a diverse crowd to participate. My group was multi-racial and included men and women spanning several generations.
"Do not focus on just those who support law enforcement but those who either have questions or are even skeptical," he adds. "You do not need to make every scenario one where someone will be shooting, but challenges what people think officers can and should do in an environment requiring quick thinking."
About the CAP program
Chuck James had attended the training as part of CAP. He explained the program is the brainchild of Commissioner Simmons and former Coral Springs Police Chief Clyde Parry in response to some challenges between minority communities and their police departments.
As citizen distrust in law enforcement increased throughout 2020 and 2021, the CSPD developed CAP as a way to engage with citizens to build a stronger foundation, develop greater understanding, and improve transparency.
The program addresses misunderstandings or lack of knowledge about how the public perceives policing and what police actually do. Citizen ambassadors learn more about the police department, engage in timely and controversial topics through interactions with police, review good police work, and examine use-of-force incidents.
"The training simulation was one of a series of training events we have had to understand the issues a police officer has when confronting a potentially dangerous situation with a citizen involved," James notes. "I wanted to better understand the pressure a police officer faces and the decisions they have to make in the brief time they have to respond. I also wanted to gauge my unconscious biases when in that type of situation."
As a result of his participation, James says he highly recommends citizens have an opportunity to participate in similar exercises.
"I am now much more aware of the dangers police officers have, plus what I need to look for when making a judgment regarding an arrest," he points out.
NEXT: Taking a back to basics approach to community engagement
---
About the author
Carol Brzozowski is a freelance journalist and former daily newspaper reporter based in South Florida. Her work has been published in more than 200 media outlets
Request product info from top Police Training Simulators companies
Thank You!