Modernizing the push bumper for today's needs
Setina offers a wide range of push bumpers that can be tailored to any agency's needs and budget
---
Sponsored by Setina
By Alex Ulibarri for Police1 BrandFocus
Admittedly, the push bumper is perhaps one of the most oft-overlooked pieces of equipment on police vehicles that use them, yet it has an important utility function that might not get used on a daily basis but is much-appreciated when it's called upon.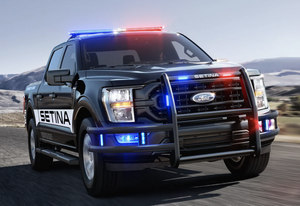 Imagine a scenario that patrol officers are often faced with in a typical shift – a vehicle is stalled in a lane of traffic and is causing congestion during rush hour. This situation might lead some commuters to create their own detours by re-routing through neighborhoods to make it to work on time. This increased traffic in neighborhoods can lead to hazardous conditions if speed limits aren't followed, especially if it's a school morning with kids walking to school.
To make matters worse, the vehicle is positioned on an incline, making pushing the stalled vehicle out of the roadway hazardous for the officer should they find their squad not equipped with a push bumper. This leaves the officer only two alternatives, neither of which are safe or efficient: pushing it out of the roadway using good old-fashioned manpower or calling for a tow and waiting for the wrecker to make it through the traffic jam.
Push bumpers can come in handy in a pinch like this, and I've used them during my time as a patrol officer. Given the option, I'd venture to say that most officers would choose to utilize the push bumper before getting out and physically pushing the vehicle into a parking lot.
The safer, easier way to clear a stranded vehicle
In my experience, when used properly, using a push bumper to move a stalled vehicle is much safer due to an increased level of control and power that using a vehicle offers. This allows for a swifter and more efficient clearing of the roadway, allowing for traffic to flow normally. What's more, using a push bumper can allow departments to avoid injuries to officers, especially lower back strains, that can be sustained as a result of officers using their own physical force to remove a stalled vehicle.
Couple this with the sometimes slick roadways, especially if there's been precipitation, and you might have a perilous task in pushing a vehicle out of the road.
When I last used a push bumper, there was a vehicle stalled in a lane of traffic during morning rush hour. I was very glad to have a push bumper-equipped vehicle. Besides saving myself from injury and exposing myself to roadway hazards, I was able to safely remove the vehicle from a busy intersection and get it into a parking lot. Without the push bumper, I'd have been in a four-way intersection pushing or waiting on a wrecker, which can take considerable time.
Push bumpers tailored to agency needs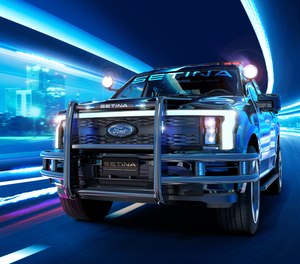 Setina – now in its 60th year of business – offers several different models of push bumpers to choose from which can be tailored to an agency's specific needs. Whether you need a general-purpose push bumper, a lighted push bumper or even a winch-ready push bumper for agencies in rural or icy locales, Setina has a product for that.
What sets Setina apart is continual innovation of their products. While they still manufacture steel bumpers, their more recent models use aircraft-grade aluminum that is 40% lighter than steel. This means better weight distribution and better control, as well as reduced weight on the squad car's front end, which can lead to reduced wear and tear on the vehicle when compared to push bumpers composed of steel.
This aluminum is heavy duty and is constructed in a one-piece design that is durable and built to last with a powder coat finish to protect it from the elements. Setina push bumpers are also covered with rubber padding to cushion the pushing surface upon contact. This is essential, as bare metal against another bumper can cause damage.
Safety is another important consideration that Setina builds into every push bumper. According to the Centers for Disease Control and Prevention, between 2011 and 2020 an average of 50 officers were killed annually on the nation's roadways.
For added visibility, Setina offers the option of to mount LED lights and sirens to the push bumper, which can be a safety enhancer on squad cars as they approach intersections while running code. While positioned only a few inches forward of the vehicle body, these lights and sirens can maximize the notification time given to citizens when a squad car is running code with a visual cue from the lights or an audio cue from the sirens.
Squad car damage can also be mitigated with the use of a push bumper. Every patrol officer who has done the job long enough has likely been involved in some type of roadway collision. By utilizing a push bumper, damaged that would otherwise be dealt to the grill, fascia, headlights, or other part of the vehicle front might instead be inflicted on the push bumper, which is easier to fix. This can save agencies not only money but vehicle downtime from being repaired.
Setina has durable, lightweight push bumpers for police agencies looking to outfit their vehicles with an effective way to remove vehicles from roadways. With the added benefits of safety and vehicle longevity, it's time to give push bumpers their due respect and consider the benefits that Setina push bumpers provide.
For more information about Setina's push bumpers, visit Setina.
Read next: Easy on, easy off, easy-to-store: First push bumper bike rack
About the author
Alex Ulibarri is a patrol officer and school resource officer with a police agency in North Texas. He recently obtained his master's degree in criminal justice.

Request information from Setina Manufacturing
Thank You!