Reimagining drone command centers for police departments
Turn your police vehicle into a mobile drone command center
---
Content provided by TruckVault
By Julia Hanna
Drones hover at the top as the go-to tactical option for departments nationwide. TruckVault understands the need to integrate this technology based on the inquiring department's, or officer's, arsenal without any major restructuring or sacrifice of resources. That is why our Drone Responder Line includes secure storage for necessary gear and is built to the specifications of the intended vehicle. Drone programs are not one-size-fits-all solutions, so their accompanying storage solutions and command vehicles should not be either.
Federal legislation now includes the Tactical Beyond Visual Line of Sight (TBVLOS) waiver issued by the Federal Aviation Administration (FAA), enabling SWAT operations to provide initial information and overwatch for responding personnel.
Drone implementation does not stop at SWAT response. The article 11 Way Police Departments Are Using Drones, explains how law enforcement has improved response methods to a variety of situations, keeping officers and citizens safer. Improving safety for officers and citizens is one of many benefits offered by drone programs in law enforcement. Additionally, drone response vehicles become multi-purpose response vehicles, able to aid in efforts from search and rescue to crime scene documentation, and situational de-escalation. 
According to Droneresponder.org 82% of agencies use a multi-rotor UAS. TruckVault strives to aid these departments in streamlining the integration of drone technology in their programs. Our current Drone Responder Line command centers create an instant command center where first responders can stay informed on the situation at hand. Advancements in TruckVault's technology have enabled such systems to become more portable, easily fitting in the rear of police vehicles.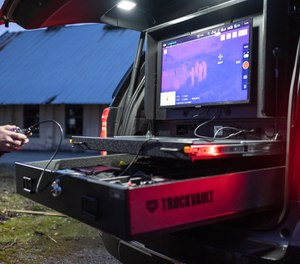 The implementation of UAVs in law enforcement generates a fantastic opportunity for agencies combatting manning shortages. With an eye in the sky, field agents can preserve a crime scene much faster than original on-scene methods. When locating a suspect, search teams can shrink by deploying a drone to cover large areas quickly.
With the versatility drone use boasts, TruckVault recognizes the associated command centers must be just as versatile. Our custom capabilities allow agents and TruckVault Specialists to bring innovative ideas and solutions to life. From traditional Tahoes to unconventional EVs, TruckVault has a solution for nearly every vehicle on the road.

Request information from TruckVault
Thank You!