Using smart design to protect the protectors (eBook)
Download this free eBook to learn how vehicle interior design can enhance efficiency, safety and comfort
---
Sponsored by Jotto Desk
Today's police officers spend most of their time in a patrol vehicle. Not only does the vehicle interior serve as a mobile office, it has to secure weapons and valuable equipment, safely transport arrestees, DWI suspects and others and function efficiently despite wear, tear and abuse.
On top of that, the space must function efficiently so officers can quickly access what they need when they need it, stow items away securely when not in use, facilitate a quick vehicle exit and avoid impeding the officer's view.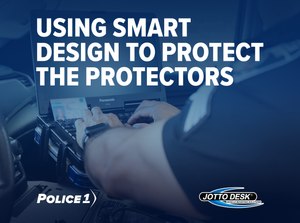 Ideally, the internal configuration would also be ergonomically designed for all-day comfort and to minimize back pain, fatigue and the risk of injury. It also needs to be affordable and easy to install and maintain.
This eBook explores ways in which smart design and placement of interior accessories, purpose-built for law enforcement officers, can enhance officer comfort and safety while enabling them to work efficiently and effectively from the small confines of a vehicle interior.
Fill out the form below to download the free eBook. You'll learn:
How to maximize form and function in a law enforcement mobile office (aka the patrol vehicle).
How to stop thieves when police vehicles are the target.
Why choosing a total modular solution can save time, increase choice and ease installation and servicing.
Resources.
Fill out the form below for your FREE eBook:
Download the eBook "Using smart design to protect the protectors"