PRESS RELEASE
Jotto Desk is proud to announce the Defend IR
---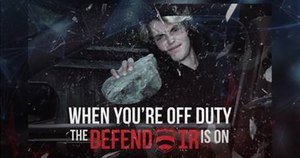 When you are in law enforcement, your vehicle is not just transportation. It is your office, your storage locker, and your home. You take every precaution to secure and protect your patrol vehicle. Unfortunately, your patrol vehicle is never truly safe from criminals who bypass your safeguards to steal the tools you use to serve and protect. To protect your home and property, you can invest in security systems, alarms, and cameras, but until now, there was little you could do to prevent patrol vehicle break-ins. That is why Jotto Desk has developed the Defend IR, the first infrared security system explicitly designed for patrol vehicles.
When armed, the Defend IR monitors the interior of your cabin. If movement is sensed, the Defend IR utilizes the lights and sirens of the patrol vehicle, alerting everyone around a break-in has happened and startling a potential thief before they can steal your police equipment. Jotto Desk makes products that protect you while you serve and protect. When your off duty, the Defend IR is on. To find out more about the Defend IR, go to jottopublicsafety.com.
About Jotto Public Safety
For over 20 years, Jotto Desk has been the benchmark Total Solutions Provider for vehicle equipment in public safety and the leading innovator of vehicle laptop mounts and docking stations for mobile workforces. We demonstrate our commitment to our customers and quality improvement by employing an internal quality management system for all of Jotto Desk product lines. We consistently strive to exceed expectations set for all aspects of the business: design, development, sales, manufacturing, and service.

Request more info from Jotto Desk
Thank You!