Jotto Desk is proud to announce the Mamba Mount
---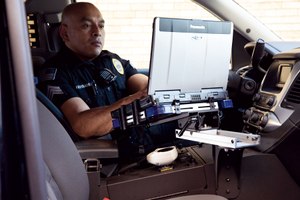 Jotto Desk is proud to introduce the Mamba Mount, the most deployable laptop mount on the market. With 5 points of adjustment, including a 110-degree rotating Motion Arm and 90-degrees adjustable Tilt/ Swivel Assembly, the Mamba Mount keeps your work always in striking distance.
Jotto Desk has been in the Public Safety vehicle mounting business for nearly 30 years and have a culture of innovation and exceeding our customer's needs. That is why we have embarked on a ground-up redesign of our bestselling laptop mounts to create the Mamba Mount.
"Our goal with the Mamba Mount was to design a mount that the bare minimum of action would be needed by an officer to interact with their laptop. By quickly releasing the rear plunger, this allows the computer to slide forward for use in the driver seat or outside of the passenger seat, and then reverse the process to return the Mamba Mount to the Ride & Drive position. All other movement or rotation requires no levers, knobs, or ratchets to adjust."
Curt Hatton: SVP of Sales & Marketing for Jotto Desk
The unique swivel and slide design of the Mamba Mount allows you to position your laptop in three modes: Store & Drive, Park & Work, and Tactically Safe.
Store & Drive is the best setting for driving while still viewing your computer screen but set away for easy access to the console.
The Park and Work mode allow you to bring the computer closer to you for a more ergonomic working position while sitting in the driver or passenger seat.
The Tactically Safe position is used while standing outside of the passenger side of the vehicle. This setting allows the officer to work while positioned behind an open door and maintaining eyes on people and the environment around them.
The Mamba Mount easily attaches to the majority of Jotto Desk Contour Consoles and any other standard console with side mount fittings and fits all Jotto Desk A-MOD Desktops.
Go to jottopublicsafety.com to learn more about the Mamba Mount and order for your public safety fleet today.

Request more info from Jotto Desk
Thank You!