Ford shows off new police interceptor
The crime-fighting vehicles get a new look and features for this summer
---
By Alisa Priddle
Detroit Free Press
Ford is using the hometown field to show the updated 2016 Police Interceptor utility vehicle and sedan at the Chicago Auto Show. The vehicles, plus the Ford Explorer and Taurus they are based on, are both made at Ford's Chicago Assembly Plant.
The crime-fighting vehicles get a new look and features for this summer. The front and rear have been redesigned, there are new headlamps and instrument panel and a better electrical system for a vehicle laden with extra equipment.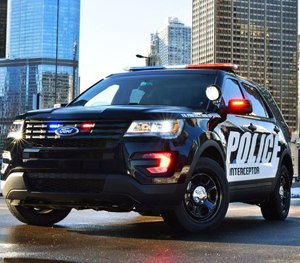 Available Surveillance Mode technology detects if someone approaches the vehicle from behind and automatically raises the windows and locks the doors. And there is a rear camera with a washer; the view is projected on the rearview mirror.
Equipment decisions are made with input from Ford's Police Advisory Board of 25 law enforcement professionals. The rotating panel acts as a pilot group for new products, programs and services.
"Our Police Interceptor Utility is the best-selling police vehicle in America because we have a unique relationship with our customers," said Jonathan Honeycutt, Ford North American marketing manager for Police Vehicles, in a release. "By listening to the Ford Police Advisory Board, we have engineered a vehicle that officers love."
While Ford has had an Interceptor sedan for many years -- based on the Crown Victoria until the full-size car was discontinued and Taurus assumed the mantle -- a utility vehicle was not added to the enforcement fleet until 2012. Ford says the Interceptor utility now has 55% of the U.S. law enforcement market.
The sedan and utility vehicles have standard all-wheel drive. The standard engine is a 3.7-liter V6 with an optional 3.5-liter turbocharged EcoBoost V6. The six-speed transmission has a Pursuit mode that changes the shifting for aggressive driving.
"From the heavy-duty suspension and powertrain offerings, to the unique steering and transmission calibrations, Ford Police Interceptor Utility is built to provide any law enforcement agency a vehicle ready to meet extremely demanding needs," said Arie Groeneveld, chief engineer for the new Police Interceptor Utility.
To outfit the police vehicles, they are taken from the assembly line to to the nearby Troy Design and Manufacturing center where about 200 workers outfit them with a choice of 125 law enforcement equipment packages including 25 flashing light choices. Last year they worked on 36,000 vehicles.
Copyright 2015 the Detroit Free Press
McClatchy-Tribune News Service
Request product info from top Police Vehicle Graphics and Decals companies
Thank You!