Bill proposes removing blue lights from atop Ga. state police cars
The cruisers' new lighting and signage technology make rooftop lights unnecessary, lawmakers said
---
By Mark Niesse
The Atlanta Journal-Constitution
ATLANTA — Georgia drivers wouldn't see blue lights atop police cars before they're pulled over by state troopers under a bill that passed Tuesday in the state House.
The legislation would allow the Georgia State Patrol to remove rooftop lights from patrol cars. Instead, state troopers would use flashing lights on the front, back and sides of cars, along with an electronic display that reads "State Patrol."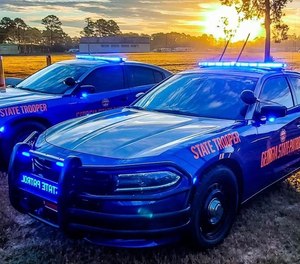 Opponents of the measure said it could result in speed traps and traffic tickets.
"Vehicles would not know necessarily until they get right up on it, or once it's behind them flashing their indoor lights, that that car is actually a police car," said state Rep. Jasmine Clark, a Democrat from Lilburn.
The House voted 105-55 to approve the legislation, House Bill 1146, which now advances to the state Senate.
The bill's sponsor, state Rep. Jodi Lott, said new lighting and signage technology for patrol cars make rooftop lights unnecessary.
"Some in Georgia have used the bar light on the roof of the vehicle as their confirmation that the vehicle attempting to stop them is for certain an officer of the law," said Lott, a Republican from Evans. "But with the new technology, Georgia State Patrol vehicles are equipped with a messaging bar that reads 'State Patrol.' This is a significant and definitive label for improved safety."
State law currently allows up to two vehicles per Georgia State Patrol post without exterior roof lights.
The Georgia Department of Public Safety, which oversees the Georgia State Patrol, requested the legislation, Lott said.
(c)2022 The Atlanta Journal-Constitution (Atlanta, Ga.)
McClatchy-Tribune News Service