Redesigned Capitol Police cars enter national contest
Capitol Hill Police unveils money-saving, sleek look for cruisers
---
By Police1 Staff
WASHINGTON, D.C. — Recently, Capitol Hill police officers redesigned their squad cars to save cash and upgrade their vehicles' appearance. Now, they are entering the cruisers in a national design competition.
While the new design is nothing too radical, anyone in the Washington, D.C. area who is used to seeing the patrol cars roaming around the U.S. Capitol building would notice the change.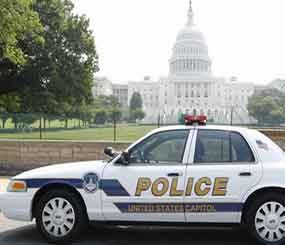 Included in the new look is a darker blue stripe outlined in gold trim as well as "police" emblazoned in upper-case letters that are free of clutter. The word stands out, uninterrupted by graphics or other lettering.

According to the Associated Press, the police are in the year two of a three-year phase-in that will gradually replace each cruiser with one bearing the new design. The Capitol Hill fleet is made up of approximately 200 cruisers, and their motorcycles have all already upgraded their look.
Marcelino Santos, manager of the Capitol Police vehicle maintenance division, said the project is expected to save around $2 million.

Previously, the Capitol Police owned its fleet, but they will now enter a lease agreement with the General Services Administration, and the agreement will drive down costs due to savings from buying in bulk. The new cars also feature LED light bars, which are less expensive — and brighter — than strobe lights.
The Capitol Police has entered its vehicles in three different categories of a contest run by Hendon Publishing Company, which publishes law enforcement trade publications. The categories are: best motorcycle, best specialty vehicle, and best vehicles for federal and state agencies.
Says Santos of the redesign: "We're proud of our design. We want it to be shown out to everyone. We want the public to be proud of it. It's a bold new look."