Spotlight: Equip emergency vehicles at an affordable price with SpeedTech Lights
Your one-stop shop when outfitting your vehicle
---
Company Name: SpeedTech Lights
Headquarters: Buda, TX
Signature Product: STL K-Force® II 47" TIR
Website:  speedtechlights.com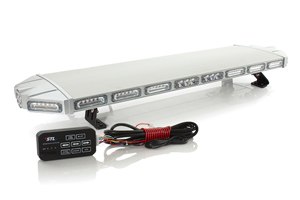 Intro: As a manufacturer and distributor of emergency vehicle equipment, we provide the highest quality police, fire, construction and EMS lights manufactured with the latest technology and most innovative design. Our low amp-drawing lights clear traffic with little power and your purchase is backed by a solid 2-5 year warranty.
Where did your company name originate from?
SpeedTech Lights originated in 2005, with the concept of providing elite products and always staying ahead of the industry in technological advancements in order to provide the best quality products with all the necessary features at an affordable cost.
What was the inspiration behind starting your company?
To provide those who serve us and risk their lives on a daily basis with a more affordable means of emergency vehicle equipment while not sacrificing high quality and A+ service.
Why do you believe your products are beneficial to the police community?
Our products provide all the necessary features for departments to equip their vehicles at an affordable cost while not sacrificing quality because we know how important our equipment is for officer safety. We provide everything from light bars, interior and exterior lighting, sirens, flashlights, installation equipment and much more to ensure we are a one-stop shop when outfitting your vehicle.
What has been the biggest challenge your company has faced?
Customers are sometimes skeptical when purchasing from SpeedTech Lights due to how affordable our products truly are for all the features you get. Even though we have been accredited with the BBB for almost 10 years and have held an A+ BBB rating for so long, some customers still feel our products are too good to be true. We are our own name brand and believe strongly in providing the best quality products for the best price. Once our customers buy from us, they love us and rarely go elsewhere. We also offer a 7-day return policy because we are confident once you receive the product you will not be disappointed. All of our products also come with an honored 2-5 year warranty.
What makes your company unique and what do your customers like best about your products?
Our products come with all the necessary features at an extremely affordable price. We offer everything from full light bars, mini bars, dash lights, grill lights, surface mounts, hide-away kits, smart sirens, speakers, flashlights, off road lights, control boxes, mounting brackets and all the necessities to fully outfit a vehicle. We also make it very easy and convenient to purchase from us. We offer a customization tool online which allows you to fully build a bar to your complete specifications without having to call in. We also offer a build-a-bundle feature where you can build your own vehicle packages for even more discounts on top of the already amazing deals we offer. All of this while maintaining an A+ rating with the BBB and providing A+ customer service. You can definitely shop with confidence at SpeedTech Lights. We truly are a one-stop shop.
What is the most rewarding part of serving the police community?
Knowing that we are able to serve those who risk their lives on a daily basis to serve and protect us. We are very proud of our A+ BBB rating because it reflects our desire to provide our customers with the best service possible and give back in order to help out in any way we can.
What's next for your company? Any upcoming new projects or initiatives?
We are always looking to advance our product lines and features. We recently introduced a completely new and improved line of full size and mini light bars with many high-end features. Some of those features include multicolor functionality, front/rear light bar control, convenient installation and much more. We also recently introduced our STL IntelliSiren, a fully programmable (via downloadable software), siren system which gives you everything you need for full vehicle control for a fraction of the cost of what our competitors sell similar systems for. We also introduced several new lines of flashlights with a variety of features including multiple flash modes, high lumen output, adjustable focus, shock proof, water proof, rechargeable options, UV functionality, compact design and much more.
We recently also tapped into the off road market by introducing our new Carbine series Off Road/Work Light LED light bars. We offer a variety of extremely bright and powerful LED bars at an extremely competitive rate compared to what is available in the industry today. Along with always advancing our product lines, we also plan to attend several tradeshows including the Police Security Expo in Atlantic City, NJ on June 23.