PRESS RELEASE
Nightstick Announces Dual-Light Multi-Function Headlamp
---
Nightstick® by Bayco Products, Inc announces the release of the NSP-4612B Dual-Light Multi-Function Headlamp.
The NSP-4612B headlamp is the ideal hands-free lighting tool when working in a location where maximum lighting options and maximum run-times are a requirement. An adjustable ratchet-tilt body allows the user to position the beam downward up to 90 degrees. Top mounted dual switches provide white spotlight, high & low-brightness white floodlight, red floodlight and dual-light control that produces 175 Lumens in Dual-Light mode. The light includes one heavy-duty rubber head strap for use on a hard hat and a non-slip elastic head strap for use on a ball cap or directly on the user's head. Power is supplied from 3 included AA batteries and is operated using a quick change battery compartment located on the back of the head strap.
The NSP-4612B Dual-Light Multi-Function Headlamps are in stock and available for sale through our network of global distributors. Please visit the Where To Buy Section of our website to find a local distributor.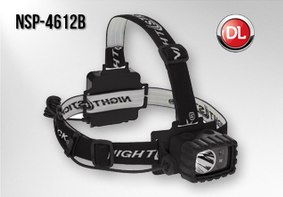 About NIGHTSTICK®
Designed and manufactured by Bayco Products, Inc., NIGHTSTICK is a global brand of professional lighting products, including flashlights, headlamps and Intrinsically Safe lighting solutions that continue to exceed industry standards in performance, quality, user-safety, and value. NIGHTSTICK's vast line-up of LED lighting products deliver optimal performance with real-world applications in mind. With an unwavering commitment to product quality and exceptional Customer Service, NIGHTSTICK is the professional's only choice. Life Depends On LightTM.
About Bayco Products, Inc.
For 30 years, Bayco Products' vast array of portable and corded lighting products, have been the preferred choice of professionals and discriminating consumers. In its 110,000 square foot facility, located in the Dallas, TX area, Bayco's dedicated engineering team continually seeks out innovative new product solutions that provide exceptional day-to-day utility and help maximize user safety. The NIGHTSTICK and BAYCO brands are established and recognized world-wide as high-performance, high-quality, and high-value lighting solutions across virtually every industry.