NY police chief injured in collision with deer
Police Chief Bryan MacFadden suffered eight fractured ribs and road rash when his motorcycle collided with a deer
---
By Daniel Fitzsimmons
The Daily Gazette
CANAJOHARIE, N.Y. — Village of Canajoharie Police Chief Bryan MacFadden was injured Monday when the motorcycle he was driving collided with a deer in the town of Sharon.  
The accident occurred about 7 p.m. on State Highway 10 just north of Sharon Springs. MacFadden, speaking from a hospital bed Thursday, said he suffered eight fractured ribs and some road rash. He said he'll be out of work for at least three weeks.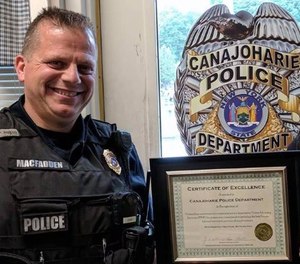 "I should be back on light duty in a few weeks, at least administratively," MacFadden said.
In describing the accident, MacFadden said the deer actually hit the motorcycle he was driving. 
"I never saw it, the bike just wasn't there one second," he said. "There was no speed or anything else that contributed to the accident."
MacFadden added that senior Officer Brian Beardsley will be managing the day-to-day operations of the Police Department in his absence. 
The stretch of road where the accident occurred, State Highway 10 between Staleyville Road and Green Road, is known to be accident-prone — specifically in incidents involving deer. 
"It's a place where deer cross, absolutely," said MacFadden, adding that his bike actually landed near a roadside cross that was placed in honor of someone who lost their life in an accident nearby. It's unclear whom the cross is in memory to. 
In 2010, a woman riding a motorcycle on that stretch of road, under circumstances very similar to MacFadden's, was killed when her bike collided with a deer. In 2014, a 21-year-old SUNY Cobleskill student was killed in a head-on collision with another vehicle on Route 10 just north of Sharon Springs. News reports about the incident make no mention of deer being involved in the 2014 accident. 
MacFadden said state police from the Cobleskill barracks took an accident report. State police spokesman Mark Cepiel said, according to information on the state police's computer system, MacFadden was ejected from the motorcycle, a 2010 BMW. 
He was transported by ambulance to Bassett Hospital in Cooperstown. 
Cepiel said the accident report was not yet completed by the on-scene trooper, and he did not know if blood alcohol tests were performed, but that alcohol is not believed to have been a factor in the accident. 
Canajoharie Mayor Francis Avery said he's in contact with members of the Police Department to deal with any issues that arise during MacFadden's absence. 
"I have yet to go visit him; I want to do that this weekend and maybe we'll have a little more idea as to how long he'll be laid up," Avery said. "We really don't know." 
Sharon Town Supervisor Sandra Manko said she heard about MacFadden's accident and said that section of State Highway 10 can be dangerous. 
"I know that there have been other accidents there because of deer," Manko said. 
She added that there are no deer crossing signs in that area of road, and that the town has no jurisdiction because the road belongs to the state. The state Department of Transportation could not be reached for comment Thursday. 
Manko said she's fielded complaints from residents in the area concerned about safety on that section of road, and four years ago she tried to get the speed limit lowered to no avail. She said driving northbound on state Highway 10, right before Staleyville Road, there is a limited sight line.
"I would agree it's a dangerous part of the road," Manko said. "Deer come across the farm fields and jump down off the bank, and you can't see them coming."
———
©2017 The Daily Gazette, Schenectady, N.Y.
McClatchy-Tribune News Service

Request product info from top Police Motorcycle Accessories and Gear companies
Thank You!