PRESS RELEASE
COBAN Technologies Releases the EDGE MC - Motorcycle Ready Mobile Recording Solution
---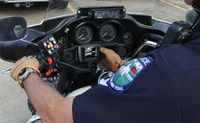 The COBAN EDGE-MC combines all of the features of the EDGE Digital Recording system and configures them for use on motorcycle units. 
The COBAN EDGE-MC features the same advantages as our EDGE system such as the ability to capture video in the new industry standard H.264 format, solid-state drives, an advanced power monitoring system, and multiple configurable triggers. The EDGE-MC comes standard with an internal 32GB solid-state HDD, 32GB removable HDD, 900Mhz Digital Spread Spectrum (DSS) wireless microphone with up to 2000 ft range, a 3.5" water resistant monitor with a built-in RFID for quick login, and a UPS battery that helps protect the system as well as the vehicle battery. Like the EDGE system the EDGE-MC has been subjected to Highly Accelerated Life Tests (HALT) and have been certified to MIL-SPEC Standards for temperature, shock and vibration.
The EDGE-MC can capture up to 75 hours of 30 fps video and comes standard with three methods of data transfer: wireless, wired and removable HDD, allowing the department the ability to choose the method that works best for them.
All of COBAN's systems and solutions are managed and configured with the COBAN Digital Video Management System (DVMS), which can be utilized by any size agency.
For more information on the COBAN EDGE or other solutions from COBAN, please visit www.CobanTech.com.

Request more info from Safe Fleet Law Enforcement
Thank You!