PRESS RELEASE
GammaTech Rugged T7Q Tablet to Be Integrated into Victory Police Motorcycles
---
Compact, lightweight unit fits perfectly in bike's top box, where it is easily accessible; fast, dependable, and agile, american-made victory bikes provide a complete turn-key solution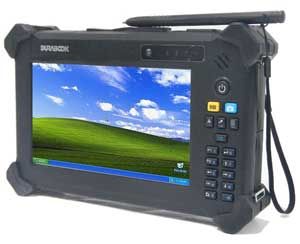 FREMONT, Calif. - GammaTech Computer Corp., a major international manufacturer and supplier of innovative notebook and tablet computers, will immediately begin supplying its rugged T7Q tablet PC to Victory Police Motorcycles for inclusion in its line of police/law enforcement bikes. The compact, lightweight unit features a 7" LCD display, an integrated 5-megapixel camera, and a number of I/O port options. It fits perfectly in the bike's top box, from where it can be easily removed.
"Our ultra-portable T7Q tablet is perfect for police use, especially officers on motorcycles," remarked Jen Chen, GammaTech president. "Since the screen and keyboard are one, it is very easy to carry the unit away from the bike to use elsewhere. And of course, as with all GammaTech products, it meets stringent Military 810G Standard and IEC 60529 IP-6X standards. The T7Q can handle virtually every bump, drop, spill, and grime it encounters, including salt and fog."  
T7Q Features
The rugged GammaTech T7Q tablet is designed to meet the demands of mobile applications such as law enforcement. It comes with a 7" TFT LCD display with resistive touch-screen panel and LED backlighting; an m-SATA SSD drive; Intel Atom Processor; an integrated 5-megapixel camera at the back of the unit; and a variety of security features. A host of options are available, including a bar-code scanner, RFID reader, GPS receiver, and I/O ports such as USB, RS-232, and RJ-45. It will also geo tag images to easily identify exact locations.
T7Q Makes Sense for Motorcycle Officers
It is estimated that approximately 80 percent of motor officers do not use computers. Victory says there are four main reasons for that, which the GammaTech T7Q provides a solution for each:
•           Computers generally are simply too big; the T7Q tablet is compact and lightweight.
•           Some computers have too small a screen and keyboard; the compact, T7Q has a generous display with integrated keyboard.
•           PCs currently used by motorcycle officers are difficult to remove; the T7Q may be easily removed from the bike, then taken and used in another area.
•           Traditional laptops are harder to use, as they are more difficult to bring into sight/focus on a bright sunny day; the T7Q has an optional sunlight readable screen.
"We take great pride in offering our customers the most complete bikes on the market," stated Mike Schultz, Victory Police Motorcycles' director of marketing. "When a bike leaves our plant, it is ready for duty, equipped with necessities such as lights, sirens, radio, crash bar, and more. Including the rugged GammaTech T7Q tablet PC makes a police officer's job less stressful and adds to his or her personal safety. At Victory Police Motorcycles, enhancing officer safety is priority one."
Set Up for Immediate Use
Law enforcement agencies that purchase a Victory motorcycle with the T7Q tablet installed and pre-wired have the benefit of knowing the computer works, as it has been pre-tested and is ready to go. Since Victory has the largest top box in the industry, the GammaTech unit can be placed in the bike's top box instead of its saddle bags. Additionally, mounts are available from a variety of manufacturers. A third storage option is simply putting a foam insert around the unit to minimize the impact of rough or bumpy rides. 
Availability
The GammaTech T7Q tablet is available through authorized resellers nationwide and at the GammaTech website. Additionally, it is available to federal, state, and local governmental agencies and departments via GammaTech's GSA contract. It comes with a standard two-year warranty. As with all GammaTech products, it may be customized to customer specifications.
GammaTech Award-Winning Products
GammaTech has a well-earned reputation and a long history in producing computers for the rugged market. It has been named a winner in Government Security News' 2010 and 2011 Homeland Security Awards in the Best Rugged Computers category.
About Victory Police Motorcycles
Victory Police Motorcycles provides a complete turn-key solution. Every bike is delivered with lights, siren, radio, crash bars, and more. Each is ready for duty on the day of delivery. It offers two production models: the Commander I (a fairing bike) and the Commander II (a windshield bike). The company receives tremendous input from the law enforcement community in designing its bikes, which are well known for their trademark rugged reliability. The company manufactures in Tucson, Arizona. For more information, visit www.victorypolicemotorcycles.com. 
About GammaTech Computer Corporation
GammaTech Computer Corporation is a leader in the design, manufacture and sales of cost-effective, high-performance mobile computing solutions throughout North America. Its award-winning line of rugged and hardened notebook and tablet computers are designed and built-to-order to increase mobile productivity for business, government, healthcare, fire, public safety and a host of other entities. GammaTech offers a complete portfolio of products that delivers power and performance needed in the most demanding work environments, resulting in increased productivity and accelerated return on investment. GammaTech is headquartered in Fremont, California, which provides the final assembly, inventory, service and technical support.
For more information regarding GammaTech products, or on GammaTech's built-to-order capabilities, visit www.gammatechusa.com or call (800) 995-8946.