PRESS RELEASE
Midwest Motorcycle Challenge Scheduled for May 15-16 Features Exciting Exercises, Over $3400 of Drawing Prizes, Video of Your Ride & More
---
use if there is a picture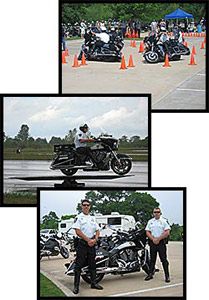 The 2014 Digital Ally Midwest Police Motorcycle Challenge is brought to you by Digital Ally in conjunction with the Lenexa Police Department and is open to all sworn law enforcement motor officers who are authorized to ride a police motorcycle through their department. Challenge highlights include:
A Chance to Win Over $3400 in Drawing Prizes, including a FirstVu HD with VuLink automatic recording capabilities, 2 DVF-500 Flashlight Cameras & tickets to the May 17th Royals vs Orioles game!
Grab Bag including Shirt & Challenge Coin
Video of Your Ride
Provided Meals
Exciting Exercises including the Crazy Eight, Circle-Square & Guitar
A portion of the proceeds goes to Guns N' Hoses
Competition Awards & More!
The event will take place at the Westside Church grounds in Lenexa, KS. Riders must compete on a police motorcycle of at least 1000 cc's that is equipped in the normal deployment configuration. Riders must compete wearing the appropriate uniform that they normally wear on duty. Awards will be given up to three per class, first place in the team competition, team slow ride, partner ride, top 5 for the overall competition and Top Gun. Space is limited, so register now!
Special thanks to our sponsors, including Sombreros Mexican Cantina, Midwest Engravers, Code 3, Ka-Comm. and DSS, Inc.
About Digital Ally, Inc.
Digital Ally provides a complete line of vehicle video systems integrated into a rear-view mirror, utilizing compact monitor controllers, or laptops/MDCs; compact video systems that may be worn or mounted; a digital video flashlight; and LIDAR handheld speed enforcement systems.