PRESS RELEASE
City of Kissimmee Police Department uses Gamber-Johnson docking stations in their vehicles
---
KISSIMMEE, Fla. - When the City of Kissimmee Police Department decided to install Getac B300 laptops in their vehicles they mounted them using Gamber-Johnson docking stations and Mongoose® motion attachments because of their ability to lock the rugged computers in place.
The department had the right equipment, but how would it hold up in a crash? On an August night, Corporal Christopher Breuer would find out.
Corporal Breuer was driving his Ford Utility Police Interceptor down a 40 mph (64 kph) road in response to a domestic battery call. Though he had his emergency lights on and his siren activated, a driver in a Nissan Altima failed to notice the approaching police vehicle and made a left turn into Corporal Breuer's path of travel.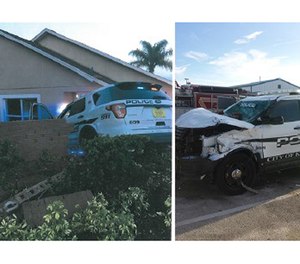 In an effort to minimize the impact, Corporal Breuer swerved to the right and struck the rear of the Nissan. His steering locked up and his SUV hit a curb then went airborne, striking a neighborhood brick wall and finally coming to rest against a house.
"Because he was wearing his seat belt and had well built equipment in his vehicle, Corporal Breuer was not injured in the crash," said Jeffrey O'Dell, chief of police for the department.
The Getac B300 docking station and Mongoose motion attachment Kissimmee Police Department had installed in the vehicle had both been thoroughly tested for safety by Gamber-Johnson. The docking station features a sliding handle which locks the laptop in place to ensure that, even in a crash like Corporal Breuer had, the computer won't eject from the mounth and become a dangerous projectile.
"The computer was still operational after the battery was repositioned correctly; it had come loose during the crash," said Chief O'Dell.
About Gamber-Johnson
In business since 1954, Gamber-Johnson has proven to be a pioneer in design innovation over the years. As a result, Gamber-Johnson mounts have been the preferred choice of fleet managers for decades and have been installed in thousands of fleets worldwide. These fleets, found in diverse markets such as law enforcement, public safety, telecommunications, utility and the military, include notable customers like Honolulu Police Department, BellSouth, SBC, GE Appliance, Sears HomeCentral and the United States Army. Gamber-Johnson customers rely on the rugged vehicle mounting systems and docking stations on a daily basis and associate the Gamber-Johnson name with quality, safety and reliability.

Request more info from Gamber-Johnson
Thank You!