PRESS RELEASE
Gamber-Johnson continues to expand its international sales team
---
Gamber-Johnson continues to focus on export business by expanding its international sales team by hiring a Latin American sales manager based out of Mexico City, Mexico and a newly appointed Director of International Sales based out of Surrey, United Kingdom.
STEVEN'S POINT, Wis. — Gamber-Johnson, a leading international supplier of rugged mounting systems for public safety vehicles, fleet vehicles, forklifts and other mobility applications, announced today that they have expanded their international sales team by hiring Alberto Varela to fill their Latin America sales manager position and by promoting Ian Davies, European Sales Manager to Director of International Sales.
With 17 years' experience of rugged mobile computing solutions, Alberto Varela brings a wealth of knowledge to Gamber-Johnson, including previous roles with key OEM partners like Panasonic and Zebra Technologies. Varela will be responsible for overseeing all of Gamber-Johnson's core markets including enterprise, public safety, military, material handling, logistics and transportation in Latin America.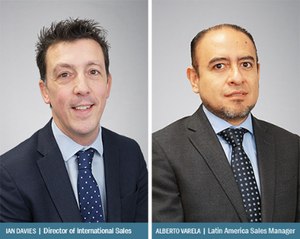 "As we continue to expand our International presence, having Alberto on board will allow us to move to the next level in terms of supporting our partners and customers throughout Latin America", said Ian Davies, Director of International Sales. "His experience and relationships are a huge asset to us as an International Sales Team and will massively help us execute on our export business plans and delivering our unique Rugged, Reliable and Responsive proposition to our global customers."
Alberto shared his sentiments by stating, "I'm thrilled to join this exceptionally talented team. Exploring new opportunities in international markets on behalf of a leading brand is something I am passionate about and I look forward to getting started." Alberto joins Gamber-Johnson's already established International Sales Team which includes three sales managers who are based out of the United Kingdom, Australia & India as well as an open position for Central & Eastern Europe.
Due to Gamber-Johnson's rapid growth, they have also appointed a new Director of International Sales with the promotion of Ian Davies, current European Sales Manager. Mark Furrow, Director of US and Canada Sales will continue to lead efforts domestically.
"It is with great pleasure that I announce the promotion of Ian Davies to Director of International Sales," stated Gautam Malik, Chief Operating Officer of Gamber-Johnson. "Ian's experience, leadership and dedication since joining Gamber-Johnson have been crucial factors in establishing the sales focus and product messaging to drive our International expansion. I have the utmost confidence in Ian's ability to build on these efforts in leading Gamber-Johnsons's International sales team and helping us expand into new countries."
Davies has led the European sales efforts over the past three years and has continuously grown Gamber-Johnson's European market. Davies will work to deploy and oversee Gamber-Johnson's international sales strategy and will oversee regional sales managers covering the following territories: Latin America, Europe, Asia-Pacific and Australia.
"I'm thrilled and honored to be asked to lead an exceptional International Sales team, looking to build on the excellent work to date, as well as help tailor our solutions to suit the different customer requirements around the world," enthused Davies.
Exports are a pillar of Gamber-Johnson's strategy to grow and most recently the company was awarded the 2019 Wisconsin Governor's Export Achievement Award which recognized their success in global business development for the second time in five years. Gamber-Johnson currently exports to over 45 different countries.
For more information about Gamber-Johnson, visit www.gamberjohnson.com. If you wish to contact Alberto Varela directly for opportunities in the Latin America region, email alberto.varela@gamberjohnson.com.
About Gamber-Johnson
Gamber-Johnson is a leading supplier of rugged mounting systems that safely secure mobile communication systems, computers and other electronic equipment in fleet vehicles, public safety vehicles, forklifts and other mobility applications. Their products are used by law enforcement, public safety, military, and warehouse fleets around the globe and are known for being rugged, reliable and responsive. Founded in 1954 Gamber-Johnson is located in Stevens Point, WI. To learn more about Gamber-Johnson visit gamberjohnson.com.

Request more info from Gamber-Johnson
Thank You!