PRESS RELEASE
Gamber Johnson LLC receives presidential award for exports
---
STEVENS POINT, Wis. – U.S. Secretary of Commerce Wilbur Ross presented amber-Johnson visit Gamber-Johnson LLC with the President's "E" Star Award for Exports at a ceremony in Washington, D.C., on May 21, 2018. Gamber-Johnson received the President's "E" Award in 2014 which is the highest recognition any U.S. entity can receive for making a significant contribution to the expansion of U.S. exports. The prestigious "E" Star Award is awarded to businesses who show four years of successive export growth since winning the "E" Award. A total of 8 U.S. companies were presented with the President's "E" Star Award this year.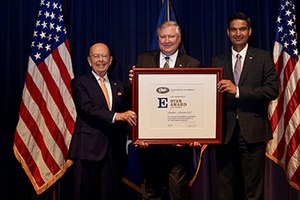 "It is with tremendous gratitude and pride that Gamber-Johnson receives the President's "E" Star Award," states Brian Wagner, President and CEO of Gamber-Johnson. "Our journey toward exporting excellence began in 2011 and required intense commitment from the entire Gamber team as well as terrific support from the U.S. Department of Commerce and the State of Wisconsin. The ExporTech™ program is instrumental in providing the structure and blueprint for ongoing export excellence and has directly contributed to our success. Exporting is and will remain a cornerstone of Gamber-Johnson's strategic growth creating dozens of additional quality manufacturing careers in the region."'
"Gamber-Johnson has demonstrated a sustained commitment to export expansion," stated Secretary Ross in his congratulatory letter to the company announcing its selection as an award recipient. "The "E" Awards Committee was very impressed with Gamber-Johnson's exports to 43 markets and corresponding growth in employment. The company's commitment to promoting manufacturing careers and exporting within its community was also particularly notable. Gamber-Johnson's achievements have undoubtedly contributed to national export expansion efforts that support the U.S. economy and creates American jobs," the letter continued.
Gautam Malik, Gamber-Johnson's Chief Operations Officer shared his sentiments by stating, "Congratulations to the entire Gamber-Johnson team, exporting is in our DNA and we have come a long way since our humble beginnings 8 years ago. We have gone from being a reactive exporter to a proactive exporter. Thank you to our technology partners for showing faith in our ability to deliver products that meet global market needs. We are proud to have grown exports and are now a multinational company with world headquarters in Central Wisconsin."
About the "E" Awards
In 1961, President Kennedy signed an executive order reviving the World War II "E" symbol of excellence to honor and provide recognition to America's exporters. Criteria for the award is based on four years of successive export growth in one or more international markets.
For more information about the "E" Awards and the benefits of exporting, visit www.export.gov.
About Gamber-Johnson
Gamber-Johnson is a leading supplier of rugged mounting systems that safely secure mobile communication systems, computers and other electronic equipment in fleet vehicles, public safety vehicles, forklifts and other mobility applications. Their products are used by law enforcement, public safety, military, and warehouse fleets around the globe and are known for being rugged, reliable and responsive. Founded in 1954 Gamber-Johnson is located in Stevens Point, WI. To learn more about Gamber-Johnson visit gamberjohnson.com.

Request more info from Gamber-Johnson
Thank You!