PRESS RELEASE
Gamber-Johnson unveils new technology cradle and motion attachment at TechAdvantage 2019
---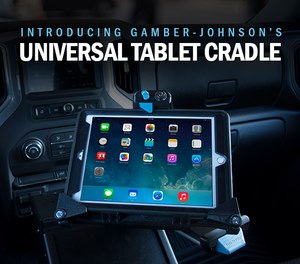 STEVEN'S POINT, WIS — Gamber-Johnson, a leading supplier of rugged mounting systems for fleet vehicles, public safety vehicles, forklifts, and other mobility applications, announced today that it will unveil two new products during the TechAdvantage 2019 event taking place March 10th-13th in Orlando, Florida. The new products will provide mobile office and technology efficiencies for individuals, teams, and fleet vehicle operators in public safety, enterprise industries, and more. 
  
"Our team is looking forward to introducing Gamber-Johnson's new Universal Tablet Cradle and Glide Arm Motion Attachment at TechAdvantage 2019; the event is a great opportunity to discuss features and benefits one-on-one with end users," said Randy Bohman, regional sales manager of enterprise for Gamber-Johnson. "During these discussions, we learn the challenges of those who work in utility industries, public safety, and transportation/logistics are faced with each day, and share ways we can make their workdays more safe, efficient, and comfortable." 
  
Gamber-Johnson's new product highlights include: 
  
Glide Arm Attachment: 
  
● An addition to Gamber-Johnson's current motion attachment family of products, the Glide Arm Attachment gives users the ability to swivel, tilt, or slide a computer to a desired position 
● Provides smooth rotation and articulation 
● Supports mobile office environments for industries such as public safety and enterprise including gas, electric, and electric co-ops 
● Blue touch points allow users to pivot and slide to a desired position while securing the device in place 
● Available in lengths including 7 inches, 9 inches, 12 inches, and 15 inches 
  
Universal Tablet Cradle: 
  
● A rugged universal solution to keep tablets safe 
● Supports mobile office environments for industries including utility, public safety, transportation/logistics, and service/delivery 
● Height, width, and depth adjustable to fit a large variety of tablets sizes 
● Once adjusted for fit, tablets can be easily installed and released with one hand 
● Designed and tested to MIL-STD 810G shock and vibration standards, and equipped with keyed lock for theft deterrence 
  
"Our new products support the mobile worker who uses a diverse range of technology in their mobile office environment," said Doug Hustedt, product marketer - cradles and docks for Gamber-Johnson. "The Glide Arm Motion Attachment and Universal Tablet Cradle are rugged enough for use in some of the most extreme environments and adjust to cover a wide range of device sizes." 
  
Throughout TechAdvantage 2019, expert representatives from Gamber-Johnson's enterprise sales team, design engineers, and product marketers will be available to discuss more attributes of the company's new products and existing portfolio of products. Located at booth #229, event attendees are encouraged to visit Gamber-Johnson's exhibit to experience first-hand the newest solutions available in mobile workstations, docking stations, cradles, motion attachments, and more. 

For more information about Gamber-Johnson and the company's new product offerings, visit www.gamberjohnson.com. 
  
About Gamber-Johnson 
Gamber-Johnson is a leading supplier of rugged mounting systems that safely secure mobile communication systems, computers and other electronic equipment in fleet vehicles, public safety vehicles, forklifts and other mobility applications. Their products are used by law enforcement, public safety, military, and warehouse fleets around the globe and are known for being rugged, reliable and responsive. Founded in 1954 Gamber-Johnson is located in Stevens Point, WI. To learn more about Gamber-Johnson visit gamberjohnson.com. 

Request more info from Gamber-Johnson
Thank You!