PRESS RELEASE
Havis introduces three docking series for Panasonic Toughbooks
---
All are Panasonic Toughbook certified 
WARMINSTER, Penn. — Havis Inc., a leading manufacturer of mobile office solutions, has introduced three new series of docking stations and cradles for Panasonic Toughbook computers. Each of the new series are Panasonic Toughbook Certified, which means they have passed a rigorous testing process, met demanding performance standards, and shown the electronics are fully compatible.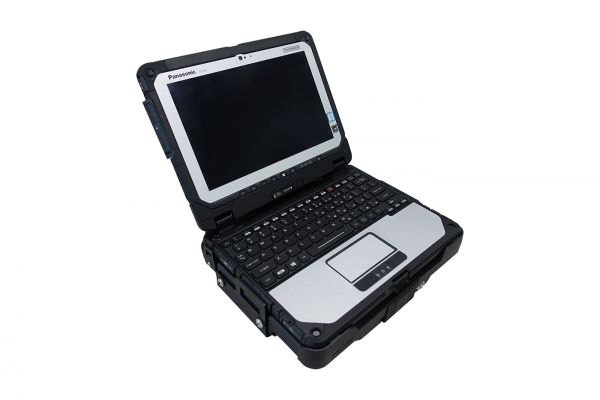 The Havis docking station series (DS-PAN-1000) is available for Panasonic's Toughbook 20, 2-in-1 Laptop, and is designed to be compatible in full laptop mode or tablet only configurations.  
Havis docking solutions for Panasonic's Toughbook 33 includes the DS-PAN-1100 for the full 2-in-1 Detachable Laptop, while the DS-PAN-1200 is for the tablet only. The Havis DS-PAN-1100 can be used with either the full laptop or tablet, while the Havis DS-PAN-1200 series is an ideal option for users who prefer Panasonic's Toughbook 33 tablet only.
These ultra-rugged docking solutions provide the safest, most reliable and secure solution for mobile computing applications, keeping expensive devices where they belong, docked and productive. All three series offer full port replication, rounded corners to add safety, and minimize risk in potential accidents and airbag deployment. Distinctive strain-relief holes provide organized cabling and secure connectivity of peripherals. A built-in locking mechanism provides enhanced security and safety against theft and undocking.
Included with docking solutions in the DS-PAN-1100 Series is a Laptop Screen Security feature, which prevents the release function of the tablet from the base of the convertible Toughbook 33.
For convenience and theft deterrence, the screen security uses the same key as the docking station. As an optional accessory Havis offers a laptop screen support (DS-DA-420) designed to attach to the left hand side of the dock for added support of the laptop screen and to reduce potential vibration. An adjustable tilt allows the screen to be positioned for the best visibility and comfort.
To see all of the product features, and understand how each series varies, please view new product animation videos here.
All of these docking stations can be combined with a broad selection of Havis mounting and motion accessories for the ideal mobile solution. Havis solutions for Panasonic devices allow for use in most any mobile application including road vehicles, forklifts, carts and more.  
Havis works directly with OEM partners like Panasonic to develop computing device-specific docking stations that are ergonomically designed to maximize safety and comfort. Havis docking solutions are tested to the industry's highest safety standards to ensure quality performance in the most rugged conditions.  
For more information on Havis' product line of docking and mounting solutions for Panasonic computing devices, please visit http://www.havis.com/catalog/Panasonic-51170-1.html, or contact your Havis representative.
Follow Havis
Stay up-to-date on the latest products and announcements from Havis through the Havis Equipped Blog, LinkedIn and Facebook.
About Havis
Havis Inc. is a privately held, ISO 9001 certified company that manufactures in-vehicle mobile office solutions for public safety, public works, government agencies and mobile professionals. For more than 80 years, the Havis mission has been to increase mobile worker productivity with industry-leading products that are built to the highest safety and quality standards and are designed with comfort in mind. Havis is dedicated to responsible intellectual property management, and fosters ongoing innovation. Havis' patent and trademark portfolio demonstrates commitment to consistently researching and developing unique products and solutions for mobile industries around the world. With headquarters in Warminster, Pa., a location in Plymouth, Mich., and Havis Europe Ltd. based in in the United Kingdom, Havis currently employs more than 300 people. For more information on Havis, please call 1-800-524-9900 or visit our website.

Request more info from Havis
Thank You!