Spotlight: GawkStopper is the solution to rubbernecking LE has been waiting for
The GawkStopper provides privacy for first responders working traffic accidents
---
Company Name: GawkStopper
Headquarters: Hendersonville, NC
Signature Product: GawkStopper
Website: http://gawkstopper.com/index.html

Q&A Questions:

1. Where did your company name originate from?

My twin sister and I used to talk about how people would always gawk at accidents as they passed by them and cause unnecessary traffic congestion.

2. What was the inspiration behind starting your company?

I was the first to arrive on the scene of a two- car accident in 2011, where all four people were killed. After calling 911, a volunteer fireman showed up first and as we directed traffic you could see the people passing by taking photos. I told him that my twin and I had always talked about designing something to help stop the onlookers. He replied that first responders have needed something like that for years, so I decided then that it was a good time to create it.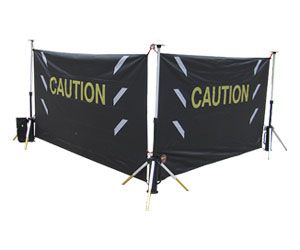 3. What is your signature product and how does it work?

The GawkStopper: You just extend the three legs, attach the tarp to the stand with carabiners, extend the pole up to lift the tarp into position, and pull the stands apart to tighten.

4. Why do you believe your products are essential to the EMS/fire/police community?

This would give first responders, who often hold up a tarp to achieve that same privacy, the free hands needed to render aid and clear up the scene.

5. What has been the biggest challenge your company has faced?

Trying to raise awareness in the first responder community that the product exists.

6. What makes your company unique?

It is a woman-owned company that sells a new invention.

7. What do your customers like best about you and your products?

I am passionate about my product, it is American made and I stand behind it.

8. What is the most rewarding part of serving the first responder community?

Helping to make their jobs easier and safer.

9. Is there any fun fact or trivia that you'd like to share with our users about you or your company?

A study by the Crash Investigation Team of the Transportation Safety Training Center at Virginia Commonwealth University revealed that rubbernecking was the leading cause of vehicle crashes. These rubbernecking accidents were not caused by landmarks or other scenery; they were caused by drivers looking at other vehicle crashes and other roadside traffic incidents. Rubbernecking caused by vehicle crashes and other incidents accounted for 16 percent of all vehicle crashes, while the total number of "outside the car" distractions accounted for 35 percent.

10. What's next for your company? Any upcoming new projects or initiatives?

Growing my business: checking into making a lightweight version of the GawkStopper for non–emergency use.

Request product info from top Police Partitions and Barriers companies
Thank You!