PRESS RELEASE
4 Benefits of secure sedan trunk storage
---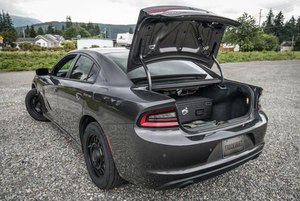 Vehicle thefts and break-ins have trended down in the last 26 years due to advances in antitheft technology and programs. However, 2020 broke this trend with a 9.2% increase in reported auto thefts according to the National Insurance Crime Bureau (NICB) compared to 2019.
From public safety professionals to outdoor recreation enthusiasts, we all want to protect our firearms and other valuables from dirt, debris, and delinquents. Leaving valuables in view, or even lock boxes visible, can be a tempting sight for thieves. The solution for most sedan drivers is often to place valuable items in the covered trunk if they must leave them in the vehicle. Unfortunately, thieves know this all too well. Adding an additional layer of security to a vehicle's trunk with our sedan-compatible line of TruckVaults is a simple and effective tactic to prevent firearm theft, among many other types of theft.
 
HERE'S 4 BENEFITS OF USING A TRUCKVAULT IN YOUR SEDAN:
HEAVY-DUTY SIMPLEX LOCKS – Simple for you. Complex for thieves. This five-button combination lock comes with a key over-ride if you ever need to reset it, all while providing premium protection and security. These come with a one-year warranty.
DESIGNED TO WORK SEAMLESSLY WITH TRUNK SPACE – Our units are customizable for nearly every make and model on the road. Whether you have a Nissan Sentra or Dodge Challenger, the drawers are designed to maximize the available trunk space, rather than completely absorb all of it. Our Baseline sits in the bottom of the trunk, and our Elevated Line raises the drawer so owners can easily store items below.
STRONGER AND LIGHTER TRUNK STORAGE - Constructed of tough MDO, TruckVault Secure Storage Systems are stronger than metal or plastic and travel silently. This discreet approach to security provides owners of lightweight sedans additional peace of mind because they won't feel as if they're broadcasting the gun safe in their trunk.
DURABLE AND SECURE SEDAN STORAGE – These vehicle safes can take a serious beating from determined thieves without budging an inch. Check out the video below showcasing just how durable TruckVault's vehicle safes are.

From Impalas to Chargers, and Civics to Corollas, we are here to help everyone keep their firearms safe, and valuables secure.

Request more info from TruckVault
Thank You!