PRESS RELEASE
Decatur & MSM's thriving partnership saves lives through speed enforcement
---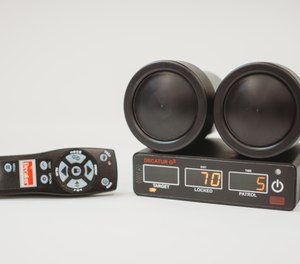 Decatur Electronics and MSM Pubic Safety have had a thriving partnership since 2016, today MSM Public Safety is responsible for the distribution of Decatur Electronics police radar, speed trailers and signs in Eastern USA.
Visit https://msmpublicsafety.com/ and https://www.decaturelectronics.com/ for more information regarding Decatur Electronics latest products.
Decatur Electronics Product Highlights:
The G3™, is the latest generation of the Genesis Radar family. The G3 is replacing the venerable and popular Genesis II Select. It is available with one or two Ka-Band directional antennas and comes with the following standard features stationary directional, moving same lane, and moving opposite processing modes all with faster target tracking options, a "right sized" cordless remote and a 3 year warranty.
The SCOUT and GHD are our handheld speed radars, with over 15,000 units deployed across North America. The rechargeable-battery powered Scout offers the convenience of not being 'tethered' to the car and offers up to 7 days of use between charges. The GHD is our most affordable solution, with a 12V cord, very popular with departments with constrained equipment budgets.
The OnSite Speed Trailers and Sign product line offers highly flexible traffic calming solutions. Using over 3,000 extraordinarily bright white LEDs, it offers 45 pre-programmed bilingual (Spanish/English) messages and graphics, along with client-programmable messages. 100W High output solar panels, red/blue warning flasher and a data logger for traffic reporting are popular features. In addition to normal roadway use they are deployed in school zones, construction projects and other areas where people congregate like arenas. There is an LPR-ready option for covert mounting of up to 4 LPR cameras from your manufacturer of choice.
MSM Public Safety is a family-owned business founded in 2009 and specializes in selling and managing several Public Safety brands in the USA. MSM's founder, Mike Martin and the MSM team has won several manufacturer awards, and has helped numerous agencies and communities with their speed enforcement and traffic calming activities. 
"Our clients are part of the MSM family and will be taken care of 'the good ole fashioned way', we do business with a commitment, a firm handshake, and the goal of delivering the best buying experience."- Mike Martin, founder of MSM Public Safety.
For further information, give the MSM Public Safety team a call at (800) 488-1049, info@msmpublicsafety.com
About Decatur Electronics 
Decatur Electronics has been working to save lives through speed enforcement since it was founded in 1955 in Decatur, Illinois. Today we are part of the D&K Engineering family. Its employees have been involved in over 500 patent originations. D&K Engineering provides Total Commercialization Solutions for the medical, life sciences, digital & printing and industrial markets, which require products and instruments that have high innovation content and complex manufacturing lifecycles. With over 500 employees globally, 3 locations in USA and international presence in Singapore, Malaysia and Spain, D&K Engineering has been involved in 700+ product realization journeys from startups to Fortune 500 companies. Its employees have been involved in over 500 patent originations

Request more info from Decatur Electronics
Thank You!