PRESS RELEASE
Gamber-Johnson's announces new Zebra ET80/85 tablet docking stations
---
Today's mobile worker depends on having information available at a moment's notice, whether they're in a vehicle or the warehouse. Having the right equipment is vital to this operation.
STEVENS POINT, WI - Gamber-Johnson is excited to announce our new docking solution for the Zebra ET80/85 12" tablet. Combine the Zebra ET80/85 enterprise tablet with the new vehicle docking station, with dual-powered USBs for added productivity.
The Zebra ET80/85 docking stations, when used along with Gamber-Johnson's complete line of mounting solutions, are specially designed to work in public safety, utilities and critical field services, and manufacturing. Each powered USB port provides 1.5A, strong enough to power a printer or other peripherals. There's an option for Tri RF antenna pass-through to keep you connected. This dock will keep the tablet charged all day and provides the port replication to attach the right peripheral devices to get the job done. The Gamber-Johnson docking station is designed close to the computer's footprint to preserve cabin space with a composite design for reduced weight and increased durability.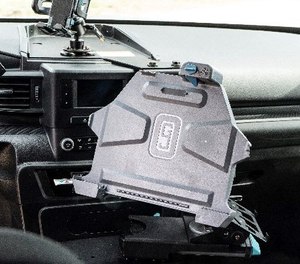 The Gamber-Johnson docking station is the ultimate choice for mobility and efficiency, weighing 2.5 lbs. (1.02kg). The docking stations feature POGO pin connectors, providing power to the tablet so it will stay charged and ready to go. Our patented slam latch allows for one-handed docking and undocking for efficient use. This docking station keeps a tablet safe and lets you access all the features you love about your Zebra tablet, including the keyboard. The camera and all the tablet ports are functional while the computer is docked safely. The docking station can be locked in for additional theft deterrence if needed.
Create a complete solution by combining the Zebra ET80/85 with Gamber-Johnson's wide variety of Zirkona, Motion Attachments, and Vehicle Mounting products to build a customizable and ergonomic solution. These products provide unique flexibility that can be quickly adapted to various mobile workplace environments, allowing users to find the perfect ergonomically correct position for their devices with minimal time wasted fidgeting with adjustments.
The Zebra ET80/85 Docking Station from Gamber-Johnson is a must-have addition to any new up fit within your fleet. The use of a docking station increases the life of your device, and with the price of replacement, Gamber-Johnson can lighten that burden substantially.
Our docking stations decrease wear on your new rugged device's mechanical and electronic side.
Reducing road vibrations through our bumpers and rugged latching system to keep it secure
Decreasing wear on the device's ports through our port replication makes the laptop's native ports less used
Increased safety and security with the ability to lock the device in place
Eliminates your device becoming a hazardous or fatal projectile in the scenario of an accident or high-speed chase.
Pre-order your docking station today here.

Request more info from Gamber-Johnson
Thank You!