PRESS RELEASE
Microsoft finds Command Center Solution with TruckVault
---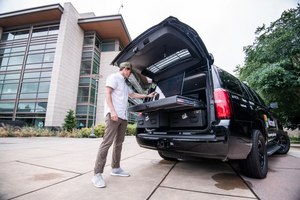 Microsoft's Public Safety and Justice Division developed a program called Azure, allowing law enforcement, fire, and EMS departments to adapt their pen-and-paper mobile command centers to the digital landscape of the 21st century. TruckVault's command center houses a wide variety of cutting-edge components.
TruckVault's secure storage solutions offer security for Azure users by providing a funtional and lockable center for gear. Users can operate their Microsoft Surface on the pull-out table and keep sensitive items like drones locked away when not in use while employing the versatile, cloud-based tools Microsoft designed from a central location while in the field.
Chad Wallace, Business Program Manager at Microsoft's Public Safety and Justice Division, says, "Having TruckVault be able to mold to the next generation of incident command vehicle is key to the success of moving away from a manual process incident command model to a really digital incident command model."
Anders Gidlund, Sales Director at TruckVault, says, "Our goal here will be to create TruckVault packages for customers looking to deploy Azure in their fleet." Recognized in the public safety industry for designing durable and secure mobile command centers, TruckVault proudly works to fit the needs of individuals and departments.
TruckVault published a video showcasing their system in a Microsoft demo vehicle. https://youtu.be/arHGV8F8o00 
About TruckVault
TruckVault has built secure in-vehicle storage solutions over the last 25 years for sportsmen, law enforcement, and commercial use. Recognized as a leader in firearms safety, TruckVault proudly holds the titles of Safety Product of the Year in 2004 and 2006, and 2008 Cygnus Innovation Award recipient. With locations in Sedro-Woolley, WA and Mount Jackson, VA, TruckVault continues leading its category in secure, in-vehicle storage with innovative designs and customizable components.

Request more info from TruckVault
Thank You!