PRESS RELEASE
RuggON Rextorm PX501 is now certified to MIL-STD-461G
---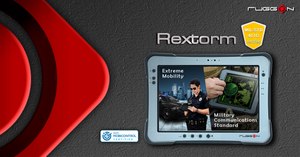 TAIPEI, Taiwan., – RuggON Corporation, a reliable rugged solution provider, has updated its tablet to be MIL-STD-461G certified. The 461G military standard testing checks radiated emission, susceptibility, and also electromagnetic compatibility, which is important for military communications and further making emergency defense missions safe and efficient in any demanding environment.     
Outstanding RF integration 
Ensuring seamless connectivity through 4G LTE, Bluetooth V4.2, Wi-Fi 802.11ac, GNSS, and optional NFC module, Rextorm PX501 guarantees minimized downtime with easy-for-replacement hot-swappable design while also allowing agilely frictionless cross-region operations easily on the go.
Advanced processing power
Running on Windows platform with Intel® CoreTM i5 processor, classic Rextorm PX501 is capable of processing complicatedly large amount of data with Turbo Boost Technology 2.0, and ensures the console is always intact and well-protected with enterprise-grade security.  
Endless expandable configurations
Supporting fingerprint reader, UHF RFID reader, machine readable zone (MRZ) reader, 3D depth camera, smart card reader & NFC, and more, Rextorm PX501 can be transformed into a dedicated and purpose-built workhorse for not only sensitive data-capture application but security-critical verification application.
Rugged from the ground up
Certified to IP65 to endure water ingression and dust stain, Rextorm PX501 is anti-EMI coated, can withstand up to 5-foot drop, and is operable in almost any light condition with its large 10.1'' capacitive and 1000 nits sunlight readable touch display that supports auto-dimming and glove operation.
Supporting both Windows and Android platform, RuggON also certified Android SOL PA501 to MIL-STD-461G, making both tablets the ideal fit for many industrial applications. Find out more here.
About RuggON
We never stop searching for inventive ways to meet the various integration and expansion demands of our customers. RuggON specializes in robust rugged mobile solutions that are highly competitive, with exceptional technical expertise. With a dedicated support and service team, we provide great flexibility and value to fulfill customer's specific needs in vertical markets. Our relentless pursuit and passion for ground-breaking innovation, coupled with extensive industry knowledge bring superb MIT (Made in Taiwan) quality and reliability.

Request more info from RuggON Corporation
Thank You!