Enabling efficiency and security: Havis trunk storage solutions for police vehicles
Experience the difference Havis can make in optimizing your patrol vehicle's workspace
---
By Police1 Staff
In the world of law enforcement, where the need for precision and swiftness is paramount, the optimization of vehicle storage space is essential.
Havis has been revolutionizing how law enforcement agencies utilize their vehicular space with a suite of robust storage solutions tailored to meet the specific requirements of various core public safety vehicles.
The expansive product line − including storage solutions for Ford Interceptor, Chevy Tahoe, Ford trucks, Chevy trucks and Dodge trucks − guarantees the seamless integration of mission-critical equipment within a compact and secure space.
Dual-purpose storage solutions
Havis storage solutions are designed with an eye toward detail, taking into account the unique challenges encountered by law enforcement. By ensuring that every square inch of the vehicle is efficiently utilized, these solutions transform traditional vehicle trunks into safe, secure and organized mounting surfaces for essential tools and equipment.
The trunk storage solutions serve a dual purpose − not only do they optimize space, but they also provide an organized layout that ensures quick access to tools when needed, boosting operational efficiency.
Their storage boxes provide a sturdy, lockable and organized space for tools and equipment. Meanwhile, their equipment brackets and straps ensure that devices are held securely in place, reducing the risk of damage during sudden movements or stops.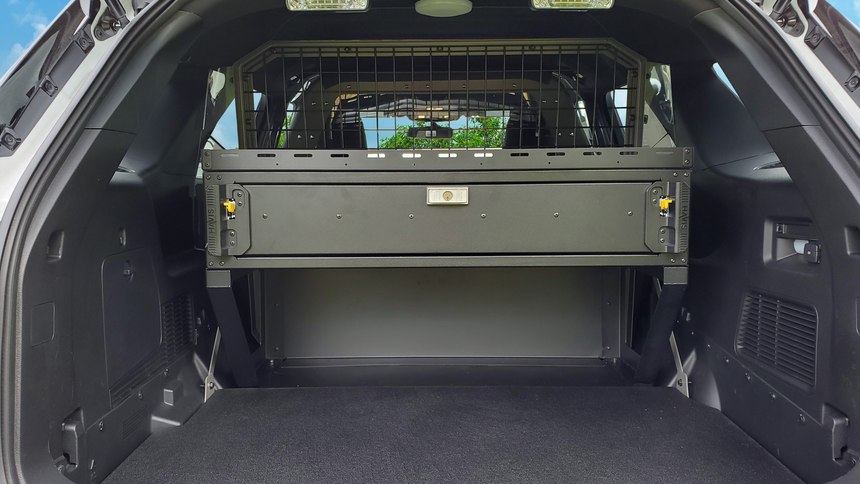 Robust, durable construction
The hallmark of Havis' trunk storage solutions is their robust and durable construction. Crafted from high-quality materials, these solutions are designed to withstand rough handling and harsh conditions − a crucial quality in the demanding and unpredictable field of law enforcement. The ruggedness of Havis products ensures that they can securely store sensitive and critical equipment, effectively minimizing the risk of damage during transit or in the face of abrupt movements.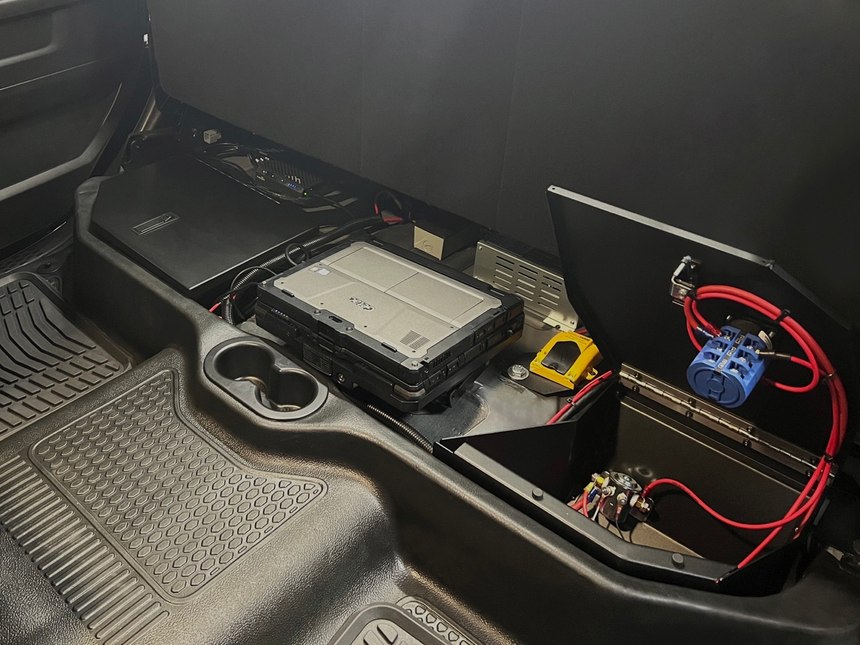 Adaptable and customizable
The versatility offered by Havis' storage solutions is another standout feature. They are adaptable and can be customized to fit a variety of vehicle types, including Ford Interceptor, Chevy Tahoe, Dodge Durango, Dodge Charger, Ford trucks, Chevy trucks, Dodge trucks and RAM trucks. This means that no matter the vehicle in use, there is a Havis storage solution that can seamlessly integrate into its design and maximize the functionality of the trunk space.
This adaptability extends to the different equipment that the solutions can accommodate, ranging from communication devices and firearms to medical supplies, making them an indispensable asset for law enforcement needs.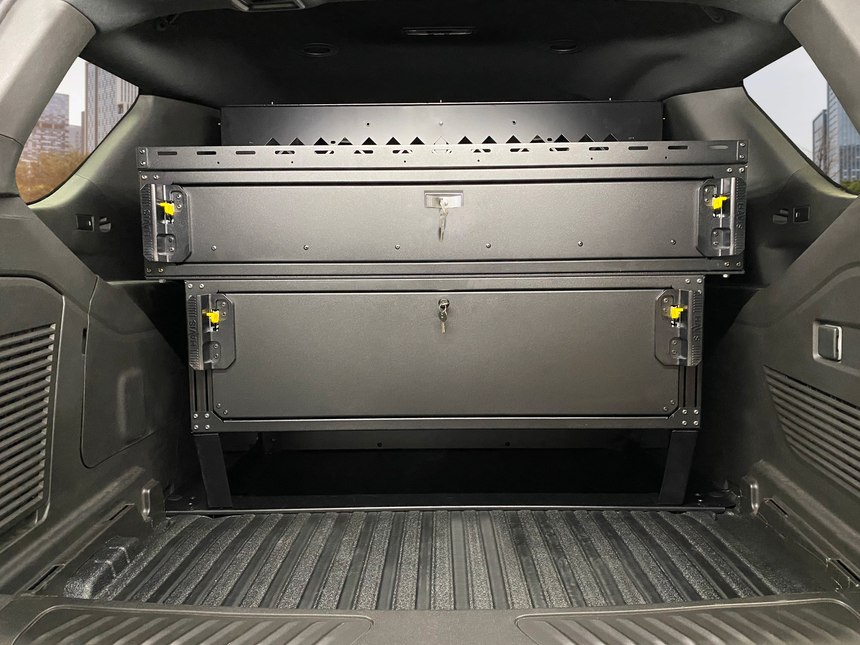 Superior protection
Havis' trunk storage solutions offer superior protection for mission-critical equipment. They feature secure locking systems that prevent unauthorized access, ensuring the equipment's safety and the officer's peace of mind. By implementing these high-security storage solutions, law enforcement agencies can be confident that their valuable equipment is safeguarded at all times.
Easy inventory checks, prompt access to equipment
Moreover, the clean layout and design of Havis's solutions further amplify their utility. By transforming the vehicle's trunk into an organized storage space, these solutions allow for easy inventory checks and prompt access to equipment in emergencies.
This streamlined setup helps save precious time during critical operations and allows the officer to focus on the task at hand instead of searching for necessary equipment.
Industry benchmark
Havis' trunk storage solutions serve as a benchmark in the law enforcement profession for their durability, versatility and security. These solutions enable law enforcement agencies to better use their patrol vehicle space, enhancing operational efficiency, and ensuring that mission-critical equipment is always within reach, is secure and is ready for use.
For more information about Havis's trunk storage solutions and the range of products available, click here.
Police1 is using generative AI to create some content that is edited and fact-checked by our editors.  

Request information from Havis
Thank You!