Your duty car is your castle: How to make it yours
Tufloc helps keep firearms secure and gear organized so your duty car not only gets you from call to call, but home at the end of every watch
---
Sponsored by Tufloc
 
By Lexi Wessling for Police1 BrandFocus
When we think of mission-critical gear in law enforcement, duty cars aren't usually at the top of the list. Firearms, as iconic as the officers who wield them, tend to dominate the imagination. Handcuffs and duty vests come readily to mind. A good flashlight and a tourniquet might round out your list of vital equipment.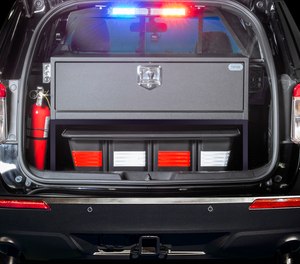 But the duty car is the unsung hero of the LEO's arsenal. Often taken for granted, duty cars are seen at best as little more than a way to get from call to call, and at worst as a mobile catch-all for unorganized paperwork, empty coffee cups, clothes and other miscellany.
If that sounds familiar, chances are you aren't treating your duty car like the castle it is. By customizing how you organize your gear and store your weapons with secure storage solutions from Tufloc, you're not only making your job easier, but possibly saving your life one day, too.
SECURE YOUR WEAPON
LEOs know that it only takes a second for an ordinary night to turn dangerous. When the clock is ticking and lives are on the line, the last thing you need is to dig for your rifle or fumble for your weapon. Tufloc's gun rack mount options – including overhead, roll bar, screen, floor, vertical, and more – mean you can keep your firearms secure in a location that's convenient to you.
You also won't have to worry about your weapon coming loose or rattling around as you go from call to call. Each Tufloc gun rack is made from high-strength powder-coated steel and is designed to fit the specific make and model of your gun, so it can handle whatever comes your way during your shift.
And when you do need your rifle, Tufloc's patent-pending X-Lock design allows it to be removed from the rack with one hand after using either an electronic delay timer or key.
For other important duty weapons and gear, Tufloc's TufBox locking drawer systems are designed to fit SUVs and cruiser trunks and are made with heavy-duty steel to withstand weather, rough roads and shift after shift of wear and tear. Keep your important documents, manuals, spare magazines, rain gear and other vital equipment safe and out of the way in multiple compartments, plus store weapons securely in a three-inch foam insert, all protected with a combination lock with key override.
When space is a concern, the Half-Width TufBox provides security and durability in a more compact size.
MAINTAIN ORDER IN YOUR VEHICLE
Police officers know better than perhaps anyone else that order means safety – but it can be hard to maintain order in duty vehicles after long shifts or tough calls. The TufBox storage bin is an organizer made to fit beneath the TufBox locking drawer, but it can also function as a standalone trunk organizer, complete with dividers and cover. Its high-density plastic design means it's sturdy enough to take a beating, but portable enough to be transported between your duty car and personal vehicle at the end of your watch.
For smaller effects like handguns, wallets, cell phones, spare handcuff keys, or batteries, the Mini TufBox fits snugly under your seat and can be kept locked until it's time to head home.
STAY CONSISTENT FOR SAFETY
In a field where no two shifts are the same, a little bit of consistency makes a big difference. For officers at bigger departments who can't count on receiving the same duty car every day, the Tactical Seat Organizer keeps items within arm's reach. Knowing where your extra magazines are and finding that dry notepad right away helps keep your eyes on your subject and on your partner's back – not searching between the seat cushions for your third on-duty scavenger hunt of the night.
No more loose equipment also means you can go home when your watch ends, without having to spend time digging in footwells and under seats. Forms, clipboards, flashlights, maps and other materials fit into the Tactical Seat Organizer's multiple compartments with ease, and its durable, heavy-duty construction keeps it securely in place even during high-speed pursuits. Just grab the built-in handle at the end of the night, and you (and all your items) can be on your way home.
Your duty car is your castle. Keep it – and yourself – safe and organized with secure solutions from Tufloc.
Visit Tufloc for more information.
About the author
Lexi Wessling is a former editorial assistant at Police1. She has a degree in criminal justice and is currently pursuing master's degrees in criminal justice and cybersecurity.

Request information from Tufloc
Thank You!