PRESS RELEASE
Angel Armor - Innovation for Law Enforcement
---
In partnership with Innovations with Ed Begley Jr., we're proud to announce that we were featured in an upcoming episode on the award-winning series, which aired Saturday, April 29 at 5pm ET on FOX Business.
Innovations is an award-winning television series hosted by actor, director and environmentalist, Ed Begley Jr., and is dedicated to bringing viewers the most up-to-date, cutting edge information across a vast array of industries. From health and wellness to global business, renewable energy and more, Innovations features practical solutions and important issues facing consumers and professionals alike. In this segment, viewers will learn about the latest advances in technology as it relates to defense and protection.
"Inspired by the skill, strength, honor and iron will of the people who serve our country, Angel Armor is on a mission to defend life from threat with revolutionary ballistic solutions so that individuals may live to their fullest potential," said Ken Sawyer, Producer for the series. "We look forward to exploring this topic."
We take pride in designing ballistic armor solutions at a higher level, and the way we fulfill this calling is what makes us unique.
"Everything we do is elevated at a higher level — our proprietary design and manufacturing processes, our customer service and our rigorous testing processes exceeding industry standards are a few qualities that distinguish us in the industry," said Josh Richardson, Co-Founder of Angel Armor. "We are excited to be featured on Innovations with Ed Begley Jr. and look forward to spreading our message and mission nation-wide through this award-winning series."
Tune in this Saturday, April 29 to learn more about Angel Armor and experience Protection at a Higher Level™.
ABOUT ANGEL ARMOR
Dedicated to defending life from threat, Angel Armor is a premier provider of advanced ballistic armor solutions. With innovative and proprietary designs, manufactured in the U.S., Angel Armor has developed a suite of globally recognized, tested and approved ballistic armor technologies. Angel Armor's products range from on-body to vehicle, to concealable and structural with protective capabilities spanning from handgun to rifle threats. With these solutions, Angel Armor elevates Protection at a Higher Level™ with uncompromising and unparalleled protection worthy of those they serve. To learn more about Angel Armor, visit angelarmor.com. Connect with Angel Armor on Facebook, Twitter, Instagram and LinkedIn.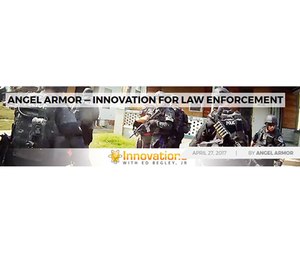 Request more info from Angel Armor
Thank You!