PRESS RELEASE
Gamber-Johnson announces release of Samsung Backlit Tab Active4 Pro 2 in 1 attachable keyboard
---
Find productivity at your fingertips with Gamber-Johnson's new Samsung Backlit Tab Active4 Pro 2 in 1 Attachable Keyboard
STEVENS POINT, Wisc. - Gamber-Johnson has announced the release of a new backlit attachable keyboard, the Backlit Tab Active4 Pro 2 in 1. The attachable keyboard is designed for those who conduct business in the field, or on the road and want to experience the convenience of the Galaxy Tab Active4 Pro with the efficiency of a laptop keyboard. The 2 in 1 Attachable Keyboard is purpose-built for workers in manufacturing, transportation and field services who need to get the job done.
The new Backlit Attachable Keyboard features a center touchpad with right and left mouse buttons and 12 function keys – take your office keyboard with you wherever you go. Use the (F12) key to adjust the brightness of back lighting giving you four levels of intensity. The keyboard is designed with the mobile worker in mind; silicone rubber keys and a rugged polycarbonate case will provide lasting performance in the field.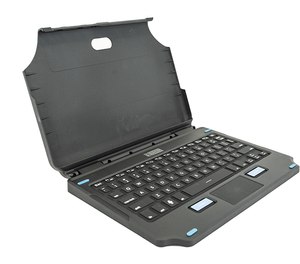 Use the USB-A port to attach peripherals such as a flash drive or mouse and use the USB-C port to charge the tablet without having to separate it from the keyboard. Use the power button on the keyboard to turn it off reducing tablet power consumption. Included with each keyboard will be a power adapter.
The Samsung Galaxy Tab Active4 Pro control buttons including the rear camera and Samsung S pen are accessible when the tablet is attached to the keyboard. For desktop work, the friction hinge and screen footrest help to position the computer and keyboard at a comfortable viewing angle.
Pre-order or call 1-800-456-6868 for more information.

Request more info from Gamber-Johnson
Thank You!