PRESS RELEASE
Lenco Armor to Display Queensland Australia's BearCat G3 EOD at 2016 SHOT Show
---
BearCat continues to be Sole Source for over 90% of US SWAT Teams with a fast growing International presence
Pittsfield, MA – Lenco Industries, Inc., a global leader in the design and manufacture of armored police vehicles, will highlight its proven BearCat® G3 EOD armored tactical & bomb response vehicle at the 2016 SHOT Show ®, January 19-22 at the Sands Expo Center in Las Vegas, Nevada. The BearCat® G3 EOD, belonging to the Queensland Police Service in Australia will be present at booth #1261. In total, nearly 700 Law Enforcement Agencies in the US rely on Lenco BEARs and BearCats every day, with a fast growing International presence.
The BearCat G3 EOD on display at SHOT Show is a Four Door variant, which offers 5 entry and egress points on the vehicle. This functionality greatly enhances tactical response and rescue capabilities in tight urban settings and Active Shooter scenarios where protected access to downed personnel is critical. The EOD package includes an additional curb side door at the rear along with a fold-down ramp that can accommodate a large tactical robot, such as the Andros F6A. The robot can then be deployed from a hydraulically controlled platform located at the front of the vehicle for close-range delivery to the threat. An operator work station allows technicians to track the robot via computer monitors from the safety of the vehicle's interior. Secure radio signals can also be utilized to transmit robot audio and video feeds.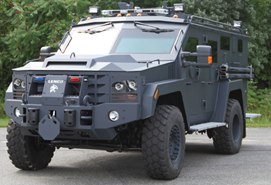 The BearCat EOD comes equipped with an optional roof-mounted, 24X zoom camera with high-intensity scene lighting that can be raised up to 10 feet for enhanced visibility. A thermal image camera, CBRNE equipment designed to detect radiation and explosive gas, and advanced communications sensors are also available to meet operator needs.
Lenco U.S. and International Sales Reps will be on hand to discuss the BearCat EOD and other military and law enforcement BearCat® models. These include: the BearCat G2 or G3 SWAT variant, the MedEvac, designed specifically for interoperability between SWAT and Tactical EMS personnel, and the BearCat EXT, a design driven by the needs of mobile command operations. Additional Law Enforcement and Military variants can be found online at www.LencoArmor.com
About Lenco Industries, Inc.
Lenco Industries designs, develops and manufactures armored security vehicles for law enforcement, military, government and private security forces working to safeguard our nation's homeland security as well as downrange in Iraq and Afghanistan. Lenco's client base includes the nation's most prestigious law enforcement agencies, including the Los Angeles Police Department, LA Sheriff Department, Boston Police Department and the New York Police Department. Lenco has also designed and built Special Forces armored vehicles for the US Department of Defense. Lenco is a supplier to the US State Department, Department of Energy, ATF, US Marshals and other high profile government agencies. Lenco's product line includes the BEAR armored SWAT truck, and several variants of the BearCat, including the G4 M-ATV, MedEvac and VIP armored vehicles. For more information, visit www.LencoArmor.com.
Request more info from Lenco Armored Vehicles
Thank You!