PRESS RELEASE
Engineered to Defend Life and Blend in, Angel Armor Reinvents Ballistic Protection with Modular Barriers
---
Fort Collins, CO – Angel Armor today announced its newest innovative product line of Modular Ballistic Barriers that integrate flawlessly into any space and deliver revolutionary ballistic defense — all in a covert yet attractive design.
Angel Armor's concealed Modular Ballistic Barriers seamlessly adapt to any setting through custom configuration and are engineered to provide industry-leading handgun protection. These armored panels provide physical security for walkways, entrances and open spaces for maximum safety. Made to fit in any environment for unobtrusive security, Modular Ballistic Barriers are perfect for public spaces, courthouses, schools, hospitals and much more.
"Defending life from threat is our primary mission," said Philip Hicks, Director of Business Development for Angel Armor. "With the increasing need for advanced protection to defend against ever-changing threats, the launch of our Modular Ballistic Barriers provides advanced protection without creating a sterile or militant perception."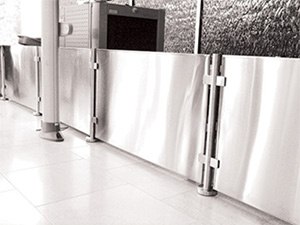 Constructed of a proprietary hybrid ballistic material, Angel Armor's Modular Ballistic Barriers exceed NIJ IIIA 0108.01 standards for multi-round and special threat protection.
Designed to fit in and engineered to protect, Angel Armor's Modular Ballistic Barriers secure any space with concealed and configurable ballistic protection at a higher level.
For product inquiries please contact Philip Hicks at 970-999-3015 or philip@angelintelligence.com.
About Angel Armor
Angel Armor provides advanced ballistic solutions for heroes who protect our way of life. Angel Armor's mission is to defend life from threat with revolutionary ballistic protection. With leading-edge protective solutions, Angel Armor seeks to support every person's right to pursue their mission, passion and freedom. To learn more about Angel Armor's Modular Ballistic Barriers, please visit angelarmor.com.

Request more info from Angel Armor
Thank You!