After NYPD cop's slaying, city heeds call for more vehicle armor
The mobile command centers hadn't originally been part of a plan to retrofit all of the department's squad cars with inch-thick bullet-resistant glass and armored door panels
---
By Tom Hays and Colleen Long  
Associated Press
NEW YORK — The day after a bullet blasted through a passenger window of an RV-like command post and killed a police officer sitting inside, officials on Thursday announced that the New York Police Department was adding ballistic protection to all 72 of the vehicles in its fleet.
The mobile command centers hadn't originally been part of a plan to retrofit all of the department's squad cars with inch-thick bullet-resistant glass and armored door panels capable of stopping a round from a .44 Magnum — a response to the killing of two officers in 2014.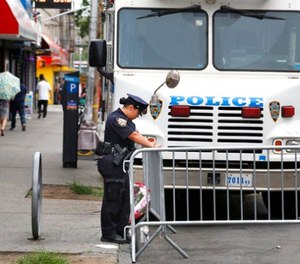 That changed with Wednesday's fatal shooting of Officer Miosotis Familia by a lone gunman suspected of having mental problems. It immediately raised questions about the omission of the command centers, especially since the vehicles, which often are planted in high-crime neighborhoods for weeks, might actually be more vulnerable.
City Hall announced on Thursday that it would spend $1.3 million to retrofit the command posts with bullet-resistant door panels and side windows. It said windshields can't be replaced because current technology doesn't allow for their curvature.
"Together, as we mourn the loss of Officer Familia, we are reminded of our sense of community and that the safety of our men and women in blue who patrol our city every day to protect the lives of New Yorkers is paramount," Mayor Bill de Blasio said in a statement.
New York politicians have been lobbying for more armor on police vehicles since NYPD officers Rafael Ramos and Wenjian Liu were fatally gunned down through the window of their squad car in 2014.
"This should have been more of a priority," state Assemblywoman Nicole Malliotakis said earlier Thursday before the City Hall announcement. Malliotakis was among lawmakers who proposed mandatory retrofitting for every police car statewide.
City Councilman Jumaane Williams pushed similar legislation after the officers' deaths but said it wasn't an easy sell because of the high cost and concerns that officers would be hampered by the thick, heavy windows that don't roll down.
The city eventually opted to phase in the protections for about 3,800 patrol cars, first allocating $6.8 million to retrofit car doors with bullet-resistant panels to protect the doors, then adding another $10 million last year to install bullet-resistant windows.
To date, 2,100 vehicles have the panels, officials said. The first 500 bullet-resistant window inserts will go into cars this month, they added.
Experts say that while fortifying police vehicles is worth it to save even one life, it isn't a panacea for gun violence against police officers. They also suggest that posting officers in stationary command centers can make them sitting ducks for anyone planning an attack.
In the case of the slaying of Familia, the 12-year NYPD veteran had been assigned to work out of a command vehicle that had been placed in a high-crime section of the Bronx after a triple shooting three months ago.
"I'm not a big believer in predictability in police work," said Maki Haberfeld, a professor at John Jay College of Criminal Justice. "You have to be able to rotate positions and be on the move because it's much easier to plan something if you know what you're going to encounter."
But she cautioned: "If someone is bent on killing a police officer, they can do it. ... This is just another layer of protection."
Other cities have explored fortifying their police vehicles. Los Angeles police officials say most of their patrol vehicles now have ballistic panels in the doors; however, the windows are not bullet-resistant.
Frank Merenda, a former NYPD captain who is now an assistant professor of criminal justice at Marist College, said the extra protection could give officers a tactical advantage but has its limitations.
"It's important to remember the job of the police is to fight crime and keep communities safe, which begins with engaging the community, not just fortifying themselves from it," he said.

Request product info from top Police Specialty Vehicles companies
Thank You!