Trikke's electric personal police vehicle can transform how your agency patrols
The Positron is a cost-efficient way to enable LEOs to better engage with citizens while offering quicker response times than foot patrol
---
By Police1 Staff
One of the most important components of strengthening a police agency's relationship with the community is engagement. But creating true bonds with the public requires more than sporadic moments of reaching out; it isn't something that should just take the form of one-off community policing events like Coffee with a Cop or town hall meetings.
To truly foster meaningful relationships with the citizens of a jurisdiction, officers need to engage with them daily. Among the more effective ways of creating opportunities for informal interactions is getting cops out of the patrol car and onto the street.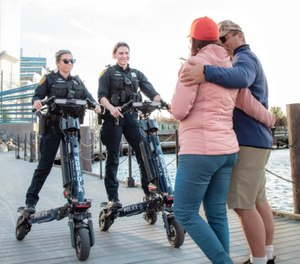 Trikke's Positron electric all-wheel drive personal patrol vehicle enables officers to be out with the citizens they serve while reducing fuel costs and providing quicker response times for beat cops.
Here's why your agency should add the Positron to your fleet:
FOSTERING BONDS WITH THE PUBLIC
Studies have found that moving officers out of their cruisers on to a more approachable mode of transport can result in over twice as much contact with the public. The benefits of beat cops have been evident for years – more impromptu meetings with the public means that citizens have stronger relationships with the officers.
Simply put, getting out of the car humanizes cops, and has tactical benefits as well. Citizens who know their officers may be more willing to share information about the neighborhood they're in and express concerns, which as a result gives beat cops a clearer picture of the streets they're assigned to protect.   
The Positron shares many of the same benefits an agency can get from establishing a bike patrol: it's a less threatening presence than a patrol car, it's less easily spotted by criminals because of its lower profile, it can travel where automobiles can't, it empowers officers to use more of their senses to identify crime, it saves agencies money and it's good for the environment. But there are specific benefits to a Positron that a traditional police bike cannot offer.
AN EFFECTIVE ALTERNATIVE TO BIKES
The easy-to-ride, ergonomic Positron has a smaller footprint than a bike while requiring fewer moving parts. This means better officer mobility in congested or high-traffic areas compared to a bike or other vehicles. The three-wheel Positron's cambering frame leans with the rider-operator while turning and allows the user to take corners at full speed and easily make u-turns – even in a narrow sidewalk space.
Because it has fewer moving parts – like the lack of a chain, shifter, derailleur and crank – it's simpler to maintain than a bike. And the Positron is very portable – the foldable frame makes it compact enough to fit into most vehicles for easy transport and deployment. The uniqueness of the Positron can even serve as a talking point with community members and can be displayed at special events like National Night Out.
In addition, the Positron provides an elevated riding stance, 12 inches higher than on foot - allowing LEOs to see and be seen above crowds. And riding the Positron allows officers to greatly conserve their energy throughout each shift; they can respond and arrive at the scene ready for action.
SAVING AGENCIES MONEY WITHOUT SACRIFICING POWER
Much of 2022 has served as an expensive reminder of the importance of being less fuel-dependent. The electric Positron comes in two models, 60V and 72V, saving agencies money on fuel without sacrificing power.
The all-wheel-drive vehicles can hit a top speed of 37-45 mph depending on the model, have a range of 25-35 miles and are multi-terrain capable with an effective fuel cost of about 1 cent per mile. The zero-emission, quiet vehicles are powered by lithium-ion batteries that can be quickly swapped out, increasing operational time while limiting environmental impact. 
TRANSFORMING PATROL 
Trikke's Positron bridges the gap between police vehicles and foot patrols, empowering officers to better connect with their community while saving agencies money and increasing operational efficiency over foot patrol. Learn more about how the Positron can transform policing on the beat here or request a demo.

Request information from Trikke Professional Mobility
Thank You!