PRESS RELEASE
Become an Independent Manufacturer Sales Representative
---
Buellton, Calif. - You've put in your years of service, and now it's time for you to hang up your uniform and retire.
Fortunately, the skills you've learned on the job can take you into many different second careers.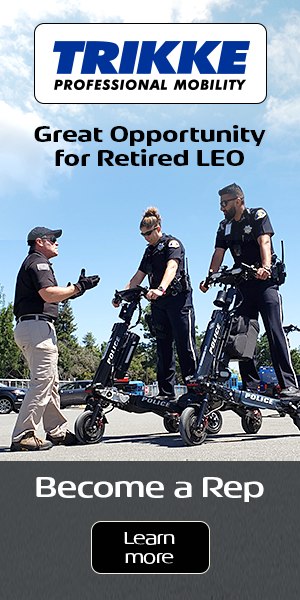 Trikke Professional Mobility, the industry leader in reliable alternative transportation for law enforcement agencies, has a manufacturer Sales Rep program that may interest you.
The TRIKKE Positron is an electric personal patrol vehicle that bridges the gap between squad cars and foot patrols by facilitating better community engagement and access to hard-to-reach areas.
Several police departments across nation have adopted it with great success.
If you're looking for something excited to do and is a believer in clean mobility, please check our Sales Rep Program and apply to become a Rep in your area. We offer 10%-15% commission on sales.
Trikke Manufacturer Sales Rep Program
Trikke Professional Mobility is a US-based manufacturer and distributor of rugged professional-grade personal patrol vehicles with a proprietary 3-wheel cambering design for efficiently moving around large campuses, congested areas, and public events.

Request more info from Trikke Professional Mobility
Thank You!