Q&A: IACP on how police can best tackle the challenges of managing digital video evidence
James Emerson, Chair of the IACP Computer Crime and Digital Evidence Committee, offers tips on how PDs can handle vast volumes of digital evidence
---
Few forces are impacting law enforcement like video. Policing in the Video Age, P1's yearlong special editorial focus on video in law enforcement, aims to address all facets of the topic with expanded analysis and reporting.
In the second installment of this four-part signature coverage effort, Solving the Evidence Management Challenge, we address the issues police departments currently face when it comes to managing digital video evidence, including data storage costs, cybersecurity, data retention, and data extraction. Click here to learn more about the project.
Navigating the complexity of BWCs is a challenge police departments continue to face. If you're in need of BWC training for your department, PoliceOne Academy has several online courses available, including "How to Implement a BWC Program." Start your path to becoming an expert by visiting PoliceOneAcademy.com and submitting a request to learn more.

By Police1 Staff
The proliferation of body-worn cameras (BWCs) has created a vast volume of digital evidence to be stored, managed and secured. Police agencies must retain for many months (or even years) hundreds of thousands of hours of video accumulated via body-worn cameras, as well as video taken from dash cams and surveillance cameras. This is in addition to the overwhelming number of other digital files that need to be secured and managed – everything from digital photos to mobile phone records and computer files.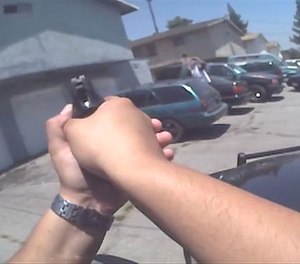 In order to understand how agencies can best respond to the challenges related to digital evidence storage and management, we turned to James Emerson, who serves as the Chair of the IACP Computer Crime and Digital Evidence Committee. The following is the result of our Q&A session.
Body worn cameras have spawned massive volumes of video that need to be stored for long periods of time. Meanwhile, agencies have tight budgets for this storage and management of this digital evidence. What's the solution for these ongoing, indefinite costs?
While this may not be an all-encompassing answer, there have been a range of LEA responses noted and what follows are essentially some alternatives. We have seen agencies reporting that this issue was so daunting it caused the agency to shelve the technology, while others have yet to employ it.
Kick-start funding sources to implement these programs are, in many cases, temporary, and expect the jurisdiction to develop local funding streams to sustain the capability. Numerous agencies have explored and focused on cloud cost efficiencies as a route to deal with cost, however even cloud cost can be significant depending upon agency size and resourcing.
Finally, various states have carefully studied whether BWC video content is or is not CJIS data as the classification issue and resulting handling is also relevant to cost in the end. It should be noted that LEA decisions in this area potentially impact other criminal justice stakeholders who will ultimately see video as evidence in litigation – they must be able to consume it properly as evidence, maintain its integrity, produce and play it in a technically correct fashion for legal process, and store it as well.
What are some of the pitfalls for the storage and management of digital video evidence (and, to an extent, all digital evidence) that agencies need to be aware of, and how can they avoid or resolve these problems?
There are two basic integrity issues to address: digital preservation and technical integrity of video played and produced as evidence.
Digital preservation requires a mechanism from end to end to prove the unchanging nature of the video content: defensible integrity from device to evidentiary display. Additionally, exacting change must be accompanied by the same defensible integrity for specific productions which having been extracted forensically from larger original evidence data sets. This normally involves some type of hashing system that is scientifically sound and appropriately applied.
There is also the need for custodial considerations to be addressed regardless of local or cloud control, and there must be an effective granular audit trail. Further, video is created using one of many various codecs or formats and these are related also to the player that is compatible.
It is important to ensure that all criminal justice stakeholders have access to a technically compatible player for the evidence at all points in the evidence lifecycle and criminal justice process to ensure the substance of the played video is complete and correct.
Further, video as noted by your questions is voluminous and many times constitutes thousands of real- time hours of capture from various physical and geographic perspectives, even when a single event is in question. The practical ability to examine all of this video requires advanced tools, and it is important these tools are consistent with the goals of maintaining integrity as stated above.
Finally, video for numerous reasons must be redacted prior to being provided into evidence or in response to legal release to other use. Again, integrity of the source evidence, as well as the production, must be ensured.
Some agencies choose to keep all their digital video evidence on their own servers, while others choose to go with a cloud solution. What do you recommend for digital video evidence storage and management?
This is an agency decision based upon detailed consideration of the type, volume and ultimate use cases encountered or assumed needed by a particular agency in concert with the thoughts already provided for the questions above. If an agency has a large amount of resources to this end, they may not rank cost effectiveness as high in this decision-making process as control and customization; for most agencies it is the reverse, and that means finding the best vendor as a partner in designing this solution.
What are the limitations to current evidence management solutions on the market? Where do you think the focus should be in the future? How is the IACP working with vendors and police departments on tackling some of these challenges?
Cost effectiveness is always necessary in the world of LEA resources. Efficient tools to save LEO/investigator/analyst time are needed, as human resources are taxed in regard to in reviewing and managing digital video, in spite of technological capabilities.
Agency policy and corresponding technology for digital integrity or simplifying quality management of Digital Multimedia Evidence from end to end is critical, especially for smaller agencies or those struggling with resourcing gaps. Routinely, the public and the media want to see video from LEAs and expect it. Thus it is not only necessary to guard integrity as it relates to evidence, but all media that will ultimately be provided to organizations or released publicly.
IACP has collaborative attention/efforts to develop guidance and model policy in this space to address this topic.

Request product info from top Police Video Redaction Software companies
Thank You!