Reveal's new D5 body camera provides advanced functionality
Reveal Media builds on years of experience serving police worldwide with added features that support transparency, de-escalation and officer safety
---
Sponsored by Reveal Media
By Police1 BrandFocus Staff
For most departments it's no longer an issue of whether to use body-worn cameras but what they need those cameras to do. The technology has come a long way, and now storage, redaction and automatic recording capabilities are must-haves.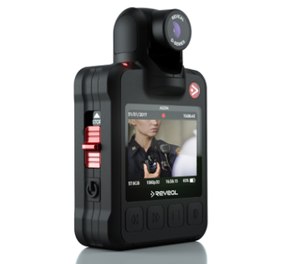 Reveal Media, an early provider of body-worn camera technology, introduced advanced features such as front-facing screens and adjustable, articulating lens heads to the body-worn camera market. The company has successfully deployed this technology with law enforcement agencies in more than 40 countries.
Now Reveal is building on its history of innovation with the D5 camera, which adds in-field annotation, high-quality image capture in low light and automatic redaction, as well as GPS tagging for enhanced officer safety and optional Bluetooth triggers for automatic recording.
Foundational features
Reveal's new D series cameras retain the trademark front-facing screen, articulated heads and one-touch recording.
One-touch recording makes operation simple – simply flick the big red switch on the side of the camera and you're recording.
The articulated camera head allows officers of all sizes and shapes to adjust the recording angle as needed. This feature also ensures that the same camera can be mounted on the chest or helmet or used a dash camera or an interview recorder.
Reveal pioneered the front-facing screen, which displays what the camera is recording in real time. It's human nature to be more mindful of your behavior when you know someone is watching, and even more so when you can see yourself in action, and customers have told the company that this feature makes the cameras an important tool for de-escalation.
You can also choose to switch the screen off entirely and operate the camera in stealth mode, which disables the screen and the LED indicator for officer safety during covert operations.
Here are five new features of Reveal's D5 body-worn cameras:
1. Low-light image quality
The D5 cameras provide adjustable resolution from low (480p) to high (1080p), and each camera's 64GB memory can hold up to 30 hours of high-resolution video.
More significant is the visibility the cameras provide in low-light situations. With its very low lux or minimum illumination rating, the lens allows more light into each frame in darker environments to capture useful video despite low light.
"The D series cameras' incredible low-light performance mirrors the human eye," said Spate. "This is achieved through use of a fast lens, custom development and a best-in-class sensor using a large pixel area to maximize light capture."
2. GPS tagging and live streaming
Reveal's D5 cameras also provide GPS tagging and live streaming capabilities. GPS tagging enables officers to record specific location information along with body camera footage, and the tags are stored in the video metadata, pinpointing the location when the footage is reviewed.
Live streaming enables officers at headquarters to remotely monitor a developing situation on the ground if needed.
"If it's a chase situation and somebody at headquarters is monitoring it, you can see on your screen exactly what's happening and where the officer is as the GPS coordinates move," said Spate. "If it's a case of looking back at the recording and the geography might not make it easy to identify the location, you can't argue with the GPS tagging on the actual footage."
3. Bluetooth triggers
The D5 camera series also offers a Bluetooth trigger option for automatic recording. Agency administrators can set up certain actions, such as switching on the cruiser's lights and sirens, to trigger the camera to begin recording without requiring the officer to manually activate the camera. This maximizes the benefit of the camera, which can only provide value when it's capturing what's happening.
4. Annotation on the go
The Reveal smartphone app, part of the new DEMS 360, Reveal's latest generation of its Digital Evidence Management Solution, allows officers to annotate videos in the field, while events are still fresh in their minds. This supports more accurate reporting and saves officers time. The notes become part of the metadata and are uploaded into DEMS 360 along with the videos, where both can be searched and reviewed.
5. Digital evidence management support
Agencies can securely store, manage and share their data using DEMS 360, The platform can be hosted in the cloud or on site (or a combination of both), and users can access it from any desktop or mobile device.
Secure web access means officers can access evidence from anywhere using a web browser, and the files can be shared securely right from DEMS 360. The system emails the recipient a link to provide access via password, and the sender can choose the date when access expires.  
A key benefit of DEMS 360 is that the new platform can aggregate and manage all types of media files, allowing it to become a single repository for all digital evidence files of any format, whether it be body camera footage, witness statements, audio interview recordings, etc. All related evidence can be collated into case support folders for convenient reference.  
DEMS 360 also enables automated redaction of video footage and audio files. The redaction function recognizes and selects faces, enabling officers to efficiently obscure innocent bystanders, minors and other individuals as needed. It can also be used to redact audio, license plates or any other sensitive information with a few clicks. 
Conclusion
All of these features are packed into a camera roughly the size of a double deck of cards that weighs 5.47 ounces (less than 1/3 pound). The 12-hour battery life of the D5, an improvement over previous models' eight hours, enables them to cover a full shift, and the battery is fully charged in five hours.
Spate says that while an agency might not immediately make use of features like the Bluetooth triggers or live streaming, the D5 camera can prepare them for future needs.
"You have access to all of this functionality should you need it, should you want to explore the possibilities of what can be done," he said. "The option is there for you to pick and choose what you need to make it a better piece of equipment for your officers."

Request information from Reveal
Thank You!