What is the future of the body-worn camera in policing?
There may come a day when a central station will be able to activate a BWC by remote command and obtain a video stream when an officer is under duress
---

Few technologies have had the impact on American policing as body-worn cameras (BWCs). In an era when the public is demanding greater police accountability than ever before, footage from BWCs provides the viewer a more realistic perspective of police operations than has been possible in the past. Now that the proof of concept is demonstrated, what is in store for ensuing generations of this technology?
Merging devices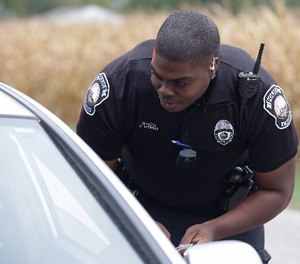 BWCs are likely to get smaller than their current form factors, and possibly split the functions between a camera and a recording unit, connected by a cable. The cable will be necessary for data communications and power, as the battery will reside in the recording unit.
Following the model of the smartphone that merges multiple functions into a single device, the recorder module might also contain a cell phone and/or the officer's portable radio, considerably more solid-state memory than the devices hold presently and a powerful microprocessor.
Such a device will be larger than current models of BWCs in order to accommodate the other hardware and a considerably bigger battery. The entire unit might be about the size of current-day portable radios.
[Police1 Resource: How to buy body-worn cameras (eBook)]
Motorola's Si500 body camera for example, is a 3-in-1 device that incorporates a flexible body-worn camera, a rugged remote speaker microphone and a touchscreen video management device. It has all of the same functionalities as a radio speaker-microphone, but adds in the ability to record body-worn video. It offers an intuitive user interface that combines voice communications, video, voice recording and still images.
The computer-in-a-pocket will serve an eye-mounted display, similar to that used in Google Glass, which is seeing a resurgence in industrial settings. The display superimposes text and images on the wearer's field of view without blocking the visual field. Officers wearing the display might see text messages from dispatch and other officers, updating him or her on the call status, replies to inquiries made for wants and records, and even real-time facial recognition, all without anyone being able to look over his shoulder.
While it's a little too much to hope for (yet) to have every stranger the officer meets instantly identified by such a system, data such as the GPS coordinates, time of day and circumstances of the call allow the system to narrow the range of possibles. If the officer is out of the car in Loco Vato gang territory, any faces that come into view of the camera can be compared to those in that portion of the gang database, along with helpful information about whether a person is wanted or they have a search clause in their current probation status.
If this seems too far-fetched, consider that Facebook and Google Photos employ facial recognition algorithms that can identify the people you post in your online photos on the fly based on what those systems already know about them.
Augmented reality
These displays and multiple data cues may also provide some opportunity to incorporate augmented reality into the devices. If an officer rolls up to the entrance to a gated community, the image captured by the camera plus the GPS coordinates might cause the keypad code to show up on his eye-mounted display.
An officer performing preventive maintenance on a TASER or LIDAR gun could call up a detailed diagram of the device's components that he could compare to what he sees in real time.
Everybody has spaceman glasses
The camera and the display will likely be mounted on wraparound Oakley-style glasses or goggles, which will double as eye protection and sunglasses as needed. Officers who wear corrective lenses can use contact lenses or have their prescription ground into an insert to the glasses.
The cable that mates the camera to the recorder and computer might also carry an audio cable for the ear/mic set or bone conduction transducer built in to the same wraparound frame, all with a quick disconnect when the glasses need to be removed. The bone conduction setup would allow transmission of audio without blocking the wearer's ears with plugs.
Artificial intelligence
A common problem with BWCs is camera activation. If an incident transpires while the camera isn't recording, the officer may be accused of trying to cover up his actions. While that may be the case sometimes, it's more likely that officers just forget to push the appropriate button when they're preoccupied with stopping the car, taking it out of gear and setting the brake, getting out, and chasing or confronting the threat that has just appeared before them. Experienced cops know that it's easy to forget these things, or even forget whether you did some of them or not.
Both VIEVU and Axon have developed holster-based technology that automatically activates the body-worn camera when an officer draws his or her firearm, so the officer can focus completely on the situation at hand.
Incorporation of artificial intelligence (old joke: artificial intelligence in policing is a valuable commodity, as the real thing is often in short supply) into the BWCs might relieve the officer of having to remember to push the button.
Artificial intelligence (AI) can monitor the condition of the patrol vehicle and emergency lights, sense whether the brakes were applied hard, know if the officer was en route to a high-risk call, determine if he was running or struggling with someone, and even monitor an officer's heart rate to determine if this might be a good time to have the recorder running.
The wearer would be cued to the activation by his eye-mounted display or a tone in his headset. Activation is also possible (and used on some models) by voice command, prefaced by an alert word that tells the system to expect a command next.
Sentiment analysis is a newer development in artificial intelligence. It analyses phrases and words in a transcript for positive or negative sentiment. Such analytic tools based on tone of voice and facial expression are in development from companies like Veritone.
Live video streaming
Some systems will be able to stream live video back to HQ, but this feature has both limited utility and deployability. No agency has the personnel to monitor multiple video streams all the time, and officers would resent the "Big Brother" aspect of this. Video streaming also requires data bandwidth that most agencies don't have, or don't want to pay for.
It's more likely that a central station will be able to activate a BWC by remote command and obtain a video stream when the situation indicates the officer is under duress or otherwise at unusual risk.
Reveal's D5 cameras currently offer live streaming capabilities to enable officers at headquarters to remotely monitor a developing situation on the ground if needed.
Citizen education and costs of archiving
The overhead associated with maintaining, redacting and disseminating video files produced by BWCs will continue to be the elephant in the room for this technology. Costs of archiving will drop, but they will never become insignificant. They are likely to continue to be the single greatest cost associated with a BWC program.
Agencies will also need to remind and educate citizens that the video from a critical incident seldom tells the entire story. What happened before and after the camera was activated, and what occurs outside the video frame are factors to be considered when evaluating the information contained in the video. Because video is such a compelling medium, reinforcing this message is a continuing priority.
If all this seems too far-fetched, keep in mind it wasn't so long ago that having a still and video camera, a music player, a video player, a phone and a computer required carrying a big bag of devices, where now these all fit into a smartphone smaller than a pack of cigarettes. If there is an obstacle, it's that smaller vendors won't be able to form the necessary partnerships to incorporate all these functions, and the number of manufacturers is likely to shrink.

Request product info from top Police Video Redaction Software companies
Thank You!