PRESS RELEASE
New PatrolEyes EDGE body camera reduces file size by 50%
---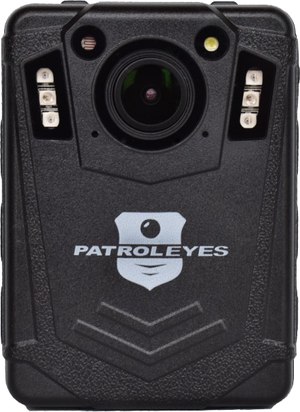 ADA, Mich., Globally recognized as a leader in body worn technology; PatrolEyes has announced the release of their new EDGE body camera. The EDGE release comes as a direct result of the endless effort by PatrolEyes to create a device for law enforcement with the best value, most features, and exceptional performance rating in the industry.

Storing body camera video has become one of the biggest challenges presently facing most departments. Recent developments in video compression can be one way to resolve this problem. PatrolEyes EDGE features H.265 compression, which generates the highest quality footage in the smallest file size possible. H.265 uses only half the bit rate of H.264, which most other cameras use. CEO Mike Gramza states, "This new feature significantly reduces bandwidth and storage requirements, which directly lowers department costs and ultimately makes body camera programs more affordable". "Not only did we improve the compression, but we've also increased frame rates up to 60 frames per second and increased pre-record times which are essential in the body camera industry."

Even while producing small file size, EDGE still offers ultra precision optics. With the ability to record in crystal clear 2K video, the EDGE's 140 degree lens will capture every detail in brilliant high definition. In addition, a 32 megapixel camera can capture high detailed photos even while recording video. EDGE features 64GB of internal storage, which provides a more than adequate space to store data until the time of desired transfer. In addition, EDGE supports multiple storage options including cloud or local management storage solutions.

Advanced image stabilization is another area that EDGE provides superior results. In most instances, body worn video will be captured while the subject and or camera operator are in motion. Often times this movement can create motion blur and in many cases render some video evidence unusable. EDGE intelligently compensates for this movement and maintains a smooth and consistent video capture at all times. Extended length pre and post record settings also give added insurance of capturing what happens several moments before and after the actual record process begins. Recording can transition seamlessly into low light and darkness with EDGE's auto infrared feature which extends up to 33 feet. A built in high quality LCD display on the back of the camera can show current settings as well as preview video, photo and audio recordings right from the camera while in the field.

Built in GPS location provides added information to the evidence being captured. Location coordinates can be collected and integrated with their respective video files via PatrolEyes included software. This feature provides priceless information such as the exact location of an incident or the orientation of other individuals using devices nearby. This can aid in accurate evidence reconstructions or future strategy solutions. All video files also include overlay watermarked text consisting of date, time and ID stamps which are locked and tamperproof. An included drop-in charging station can transfer data from the camera to the desired storage location. When transferring data, the information is organized into easy to find folders that have their own unique device ID, log and video/photo files.
Long lasting battery life is another essential feature that contributes to the device's industry dominance. EDGE has a recording time up to 18 hours, lasting well beyond the average shift. Standby mode battery life can last up to 24 hours. EDGE is encased by a durable outer shell, ensuring reliability in all conditions and is waterproof with an IP65 rating, keeping it safe from the elements.

Request more info from PatrolEyes
Thank You!