Calling out other officers: Why officers have a duty to intervene and how to do it without hesitation
Duty-to-intervene training isn't just good policy, it's better for officer well-being
---
Sponsored by VirTra
By Laura Neitzel, Police1 BrandFocus Staff
Calls for police reform reached a fever pitch in 2020, following high-profile incidents in which officers witnessed excessive force and did not intervene. Since that time, several states and municipalities have enacted legislation mandating an officer's duty to intervene if they observe a fellow officer acting beyond the bounds of policy and ethical and professional behavior.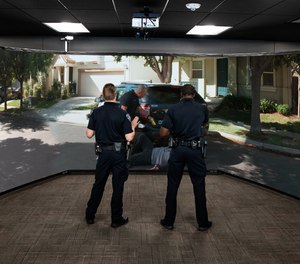 The failure to do so, as we've seen, can lead not only to legal ramifications but can put a black eye on the whole profession.
"Nobody hates a bad cop more than a good cop," said Lon Bartel, a 20-plus-year veteran law enforcement officer and director of training and curriculum for VirTra. "Every single time some officer intentionally violates their oath and dishonors that badge, they make the job 10 times more difficult for everybody else."
Consequences to law enforcement from such incidents include low morale, premature retirement, increased scrutiny and distrust from citizens, and difficulty recruiting and hiring qualified candidates, leading to more departments being short-staffed and overworked.
Adopting "duty-to-intervene" policies – by choice or legal obligation – can help alleviate some of these issues.
According to the International Association of Chiefs of Police (IACP), "As peer bystander intervention becomes an ingrained part of a department's culture, benefits may include fewer citizen complaints, fewer instances of misconduct, a decrease in the use of excessive force, an increase in officer safety and wellness, fewer disciplinary issues, increased retention of employees, and increased trust from the community."
Failure to intervene could result in discipline, losing your job, being sued civilly or even being charged criminally. But, even with such consequences, officers may hesitate to intervene when witnessing another officer behaving improperly, especially if that officer is a superior.
It's not that officers condone bad behavior – they've more likely never been given tools and instruction in how to de-escalate themselves or a peer or what actions to take to stop another officer's misconduct.
This is where duty-to-intervene training – a type of de-escalation training – is essential, especially in this time of heightened scrutiny, recruiting challenges and increasing pressures on law enforcement.
What is "Duty to Intervene"?
Although law enforcement agencies and jurisdictions may define "duty to intervene" with nuanced differences, in general, it means that every police officer, regardless of rank, has a duty to intervene if another officer's use of force clearly exceeds agency policy and training with respect to what is objectively reasonable under the circumstances. They are also obligated to prevent the use of excessive force and to report, in writing, any use of excessive force to a supervisor or the agency's governing body.
This is a great step forward in rebuilding trust and interest in the profession. But actually doing it can be challenging. Officers may mistakenly believe intervening or reporting wrongdoing violates the code of loyalty to fellow officers or they may fear retaliation or backlash from peers or detriment to their careers.
In fact, preventing a fellow officer from making what could be a career-ending mistake benefits everyone involved. Duty-to-intervene policies and laws also generally offer legal protections and protection from retaliation for officers who intervene.
Training that combines classwork to learn the foundations and virtual simulation to practice de-escalation and intervention skills is essential to giving officers the judgment to realize when intervention is needed and the confidence to do so.
VirTra's "Duty to Intervene: No Such Thing as a Professional Bystander" training fulfills two sides of the same coin: teaching officers how to control their own emotions and behavior and learning how to de-escalate and stop another officer from engaging in excessive behavior.
Officer, de-escalate thyself
"Not only is there the duty to intervene when you see another officer engaging in behavior that is unconstitutional, illegal or outside of any type of professional guidelines, but there's also what I call the self-duty to intervene," said Bartel, who is also an expert in human performance.
That means being able to emotionally regulate and evaluate whether you are in a proper frame of mind for the task at hand.
Law enforcement officers are always operating with a heightened state of vigilance, but being hypervigilant all the time without the ability to step out of it is fatiguing mentally and emotionally and can lead to less-than-rational decision-making, says Bartel. "Sometimes the best de-escalation is, "I need to tap out, I can't be here. I don't currently have what I need to do what I need to do."
VirTra's Duty to Intervene training includes a module on communication and emotional intelligence that teaches how to recognize when you've become emotionally compromised and how to exercise self-management and impulse control.
Checking another officer
VirTra's Duty to Intervene training trains officers in how to recognize signs that a fellow officer is losing control of rational behavior and offers effective intervention strategies from redirecting the officer's attention to giving them direct commands to cease the behavior. Included with the curriculum are multi-branching immersive scenarios that explore de-escalation and intervention strategies in various real-life, high-stress situations. This gives participants the ability to exercise their knowledge, skills and abilities to intervene and report officer misconduct in the safe environment of a simulator.
"We do some extremes in there to spark conversations," said Bartel. "What do you do if you have a situation where the officer sitting in front of you is involved in some type of slip-and-capture error and they have the wrong tool in their hand for the job? How do you step in? What's the appropriate way? Every agency is going to have to address that a little bit differently based on their tools and policy, but we provide the opportunity to spark that discussion and figure out what some of the best ways are."
Watch VirTra's video about Duty to Intervene:
How Utah's top law enforcement agencies are building upon Duty to Intervene training
In Utah, "duty to intervene or report officer misconduct" became law in May 2022. The law requires that "an officer who is present and knowingly observes another officer engage in police misconduct … shall, if in a position to do so safely and without unreasonable risk to the safety of the officer or another individual, intervene to prevent the misconduct from continuing to occur."
According to statute, police misconduct includes:
Force that is clearly excessive in type or duration, clearly beyond what is objectively reasonable under the circumstances.
A search or seizure without a warrant where it is clear, under the circumstances, that the search or seizure would not fit within an exception to the warrant requirement.
Conduct that an objectively reasonable person would consider biased or discriminatory against one or more individuals based on race, color, sex, pregnancy, age, religion, national origin, disability, sexual orientation or gender identity.
William Fowlke, training specialist at the Utah Attorney General's use of force and virtual reality training center, and Chief Ken Wallentine of West Jordan Police Department collaborated on a course so all law enforcement officers in Utah can be trained in officer intervention that complies with the new law.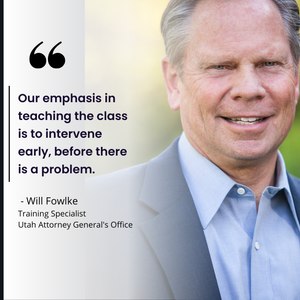 "Our emphasis in teaching that class is to intervene early, before there is a problem," said Fowlke.
The Utah course builds upon excerpts from VirTra's lesson plan on Duty to Intervene and uses five VirTra scenarios that address unconstitutional use of force, unconstitutional search and seizure, and biased police practices.  
The Utah training center also designed a second course, "Duty to Self-de-escalate," to expand on the Duty to Intervene course. That course, which also incorporates VirTra scenarios, addresses an officer's responsibility to be in control of their emotions and maintain a calm and professional demeanor during high-stress situations.
"[Trainees] need to understand the work environment or the barriers that prevent officers from remaining calm on the job," said Fowlke. "They have to recognize the red flags that indicate an officer may be in the process of escalating their emotions. And then of course, they learn steps to remain calm under high-stress and high-pressure events."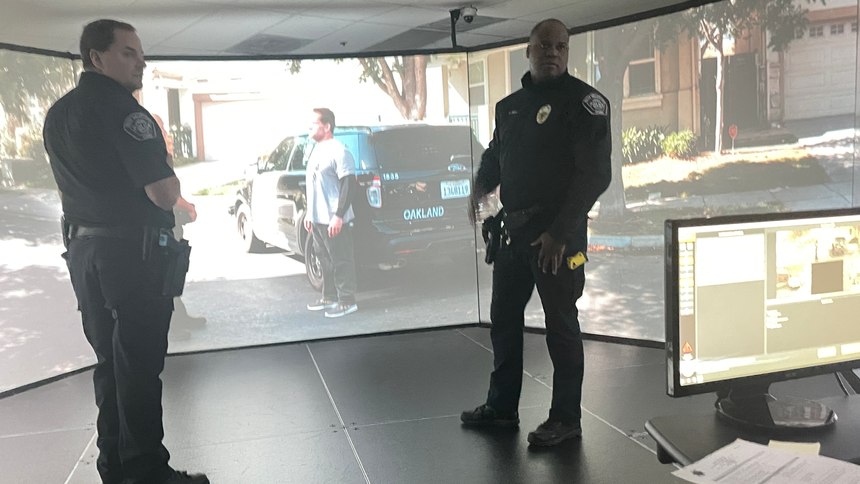 Both VirTra's Duty to Intervene course and Utah's course are designed to provoke frank discussions around uncomfortable situations.
"There are scenarios where, for example, a sergeant comes into the scene inappropriately, uses unconstitutional force, and the officers who are in this scenario are then asked to respond," said Fowlke. "So we have that discussion about 'What do you do if it's a supervisor? What do you do if it's a sergeant? What do you do if it's an officer from another agency?' That can be very challenging."
Fowlke finds that most officers taking the course have had only cursory prior training in duty to intervene. He says they are grateful for the opportunity to learn and practice in a safe environment where they can make mistakes and learn how to correct them so, when confronted with similar dilemmas in real life, they know when and how to intervene without hesitation.
To learn more about VirTra's Duty to Intervene training, visit VirTra.com.
Read next: From aviation to autism: The evolution of simulation training

Request information from VirTra
Thank You!