Evolving strategies to win the war on opioids (eBook)
In this eBook, we explore the scope of the epidemic by looking at the evolving tactics of law enforcement response to the opioid crisis
---
Sponsored by Thermo Fisher Scientific
While COVID-19 became public health enemy number one in 2020, a familiar foe continued to claim thousands of lives. Over 81,000 drug overdose deaths occurred in the United States in the 12 months ending in May 2020, the highest number of overdose deaths ever recorded in a 12-month period according to CDC data. This places law enforcement in the middle of a double public health crisis: a pandemic combined with the opioid epidemic.
In a recent poll, we asked Police1 readers if opioid overdose calls had increased in their jurisdictions since January 2020 and a staggering 60% answered yes.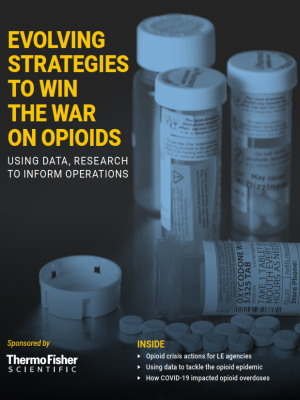 Law enforcement plays a pivotal role in America winning the war on opioid trafficking and abuse. The key to success is collaboration among law enforcement, EMS, public health and policy makers. These partnerships enable the information sharing that will deliver actionable intelligence to target interdiction efforts to disrupt the opioids supply chain, enhance investigations into online drug distribution, drive outreach initiatives and define pathways of care to treatment and recovery services.
In this eBook, sponsored by Thermo Fisher Scientific, we explore the scope of the epidemic by looking at the evolving tactics of law enforcement response to the opioid crisis.
For a PDF of the complete eBook, fill out the form below.
Some highlights from this issue include: 
The keys to successful collaboration between law enforcement, public health, policymakers and congress to end the opioid scourge
How data can be used to drive initiatives between public safety partners, and 
The steps all chiefs and sheriffs need to take on the front lines of the opioid crisis.
To download your free copy of the "Evolving strategies to win the war on opioids" eBook from Police1, fill out the form below. 
Evolving strategies to win the war on opioids